The Amazing Race Rules Of Travel!
I'm sure most travellers have tuned in at some time to view 'The Amazing Race' – where pairs of contestants (only from the United States!) travel around the world in discreet stages, trying to win one million dollars if they finish first.
The Amazing Race is a made for TV 'reality show' has been running for many years, and has been attracting large viewing audiences – including people who love the show, and those who think it's just plain ridiculous.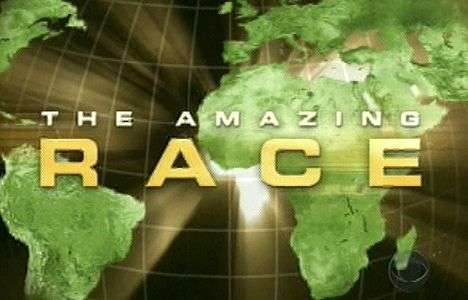 You can even purchase past seasons of The Amazing Race at Amazon.
But when I was recently watching The Amazing Race on TV, something dawned on me – what if every single traveller in the world travelled like The Amazing Race contestants?
This would create a number of Funny Travel Tips that could be passed onto us mere travel mortals.
The Amazing Race Travel Tips
So here they are – The Top 10 Travel Tips if Everyone Travelled Like The Amazing Race Contestants.
Speaking English with a loud, slow voice will automatically make non-English speakers understand you.

Travel itineraries can indeed be determined by a series of yellow envelopes removed from partially hidden black boxes, just like The Amazing Race.

Each day travelling abroad must finish on a square pad, with an assigned travel ranking.

If the before mentioned travel ranking is Number One, a high five with your travel partner is mandatory.

You would know how to say 'very fast' in every conceivable language to every single taxi driver in the world.

Travelling must be done in pairs, with a mandatory stereotype attached such as 'Ex Partners', 'Beef Cakes', or 'Dwarf Stuntmen'

Booking an airfare in advance will never be necessary ever again – just turning up to an airline counter at the airport will suffice.  There will always be a spare seat on the plane.


Many travel days will start at about 2.30 in the morning.

At least one physical challenge would need to be completed each day – which may include dragging your travel partner to make him/her go faster. And


Every single day would be described as a 'fantastic cultural experience' – even though you spent the entire day running or driving fast.
The Amazing Race – Your Tips?
Can you relate to any of The Amazing Race Travel Tips, or do you have your own?
If so, leave a comment!
Other dodgy Travel Tips you can also take no notice of like my The Amazing Race article – take the best Travel Gadget ever (the Fart Machine), and my 52 Offbeat Travel Tips.
About Anthony The Travel Tart
The Travel Tart writes about the funny, offbeat and weird aspects of world travel today. Travel wasn't meant to be taken too seriously! Check out ways to say hi below or sign up for his silly newsletter!
Other Silly Posts!