Sumatran Food – It's Hot!
I love Sumatran Food. I had my first taste of Sumatran Food during the Pesta Blogger 2008 trip through Indonesia.
It's hard to describe because there is so much variety – and 'spicy' doesn't really befit how this food tastes, because the ingredients used can vary so much – from fiery to sublime.
You don't have to go to Sumatra to sample this delicious cuisine – although I'm about to!
In Jakarta, there is a place that specialises in Sumatran Food or tasty Nasi Padang dishes – it's the Sari Bundo restaurant.  Here is a scene from their kitchen: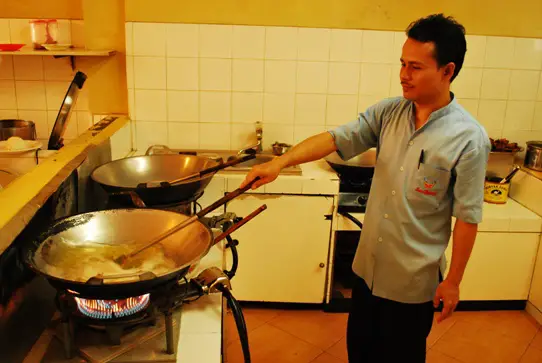 Sumatran Food Galore
My stomach almost burst when I tried to sample parts of the scores of dishes that were brought out with pride from the kitchen. Have a look at this photo below: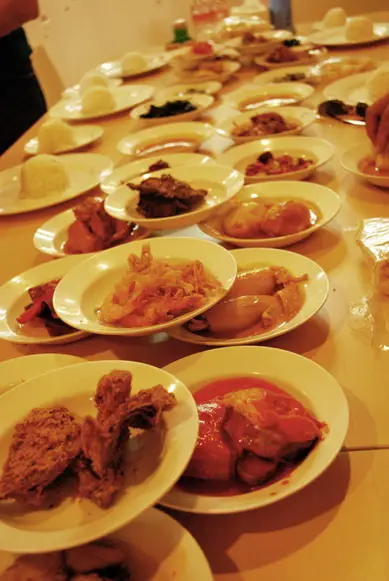 However, I was one of the few brave people to try the chilli cow brain. Actually, it was quite tasty, but a bit fatty – a bit like chilli soft tofu jelly.
Unfortunately, I had washed down the delicious feast with a combination of
durian
juice (a smelly tropical fruit) and a Bintang, the local beer – which meant the combination burps created a bizarre sickly sensation for the rest of the day not just for me, but for everyone that came within 5 metres of my mouth.
More Sumatran Food Stuff
I might have to check myself in as excess baggage the next time I fly!
Other Silly Posts!