Shop Tibet – If You Know What This Means!
Today I have a bizarre travel photo spotted in Tibet – literally in the middle of nowhere, which makes it even more impressive or bizarre.
It's of  a Weird Information Sign that's completely indecipherable!
What the?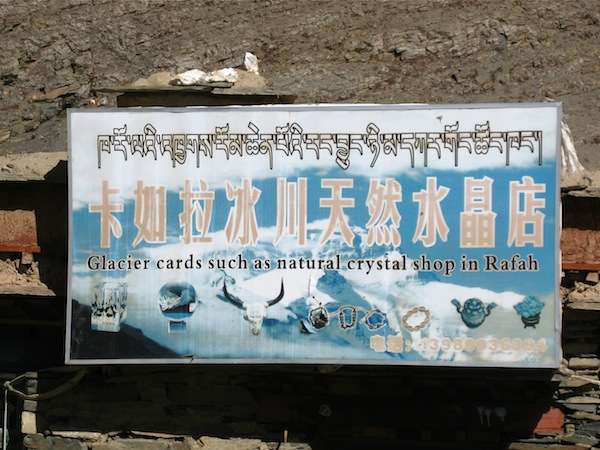 What the hell does 'Glacier cards such as natural crystal shop in Rafah' mean?
The Shop Tibet Explanation?
Anyway, this sign is on the way from Kathmandu to Lhasa, we you can stop by the middle-of-nowhere Nojin Kangtsang Glacier. Other than a small camp of Tibetans that pose for passerbys, there is just this weird abandoned building with this perplexing sign.
Who knows what it could possibly mean.'
Neither do I! Sounds like another case of Engrish!
More Shop Tibet Stuff
Not sure what this Shop Tibet sign meant, but see more at Tibet – Culture On The Edge.
About Anthony The Travel Tart
The Travel Tart writes about the funny, offbeat and weird aspects of world travel today. Travel wasn't meant to be taken too seriously! Check out ways to say hi below or sign up for his silly newsletter!
Other Silly Posts!