Recoleta Cemetery – A Buenos Aires Icon with Funny Grave Sites!
Recoleta Cemetery is an amazing collection of mausoleums in the suburb (or barrio) of the same name in the fantastic city of Buenos Aires, Argentina.
Argentina is an awesome country, especially in relation to it's steak!
Today's Funny Travel Photo is from Luciano Bullorsky of Cultura Cercana (he's also on Facebook). Luciano is a local guide from Buenos Aires who takes you to the places the guidebooks don't talk about!  I'll catch up with him the next time I'm in Buenos Aires!
Anyway, I've been to the Recoleta Cemetery before – it's where Evita is buried.  But I never noticed this Funny Grave Site and Head Stone which Luciano told me about.
Recoleta Cemetery – Funny Head Stone
What's unusual about this photo?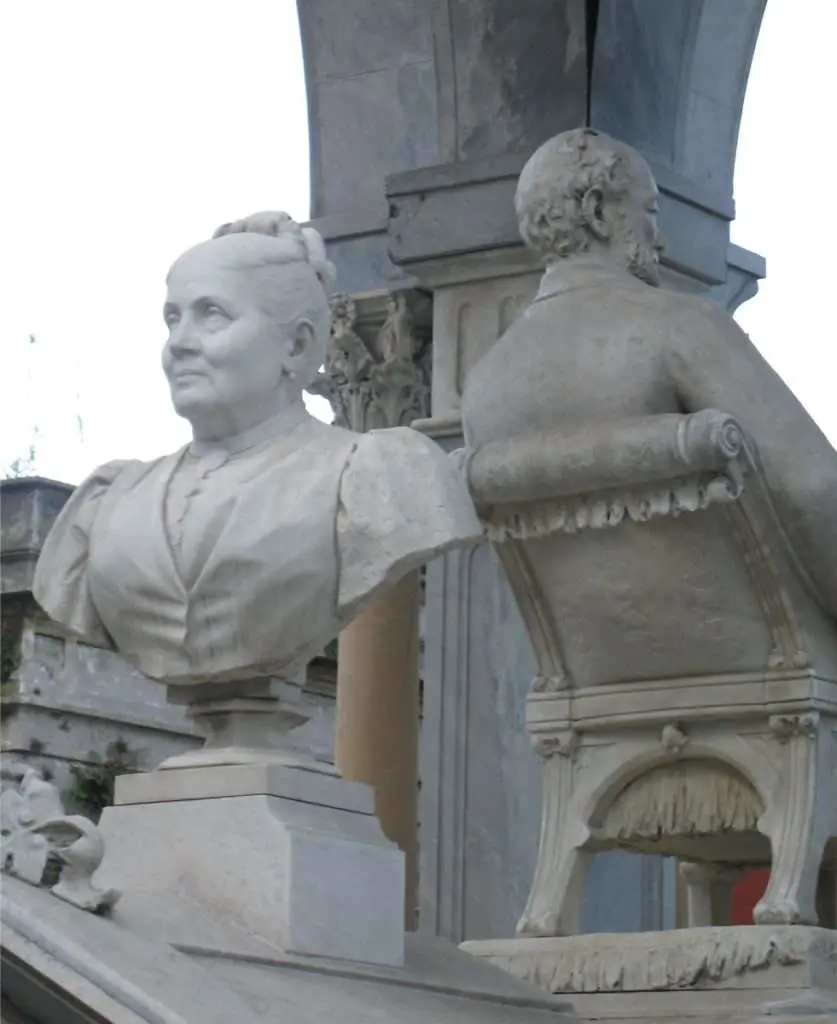 Well, the statues are of a man and wife. And they look like they hate each other's guts!
Luciano says 'I like showing people this grave site – A man sitting in his sofa looking serious into the horizon and a woman is seated in another one, in his back, but they are looking into opposites sites.  They are placed like that because he died first, so the family made his Mausoleum. Some years after, when his wife died too, in her testament she asked to be placed in that way so as to represent their marriage: they spent their last 30 years without speaking a word…they hated each other. So when I always show this to my passengers they have fun, enjoy the story and usually they joke.'
I thought this was a rather extreme way to display how bad one's marriage is, but it's piss funny!
Luciano also added a funny anecdote relating to this Funny Grave Site – 'one day I was with a couple of 60s. They were like a little bit serious and it was becoming difficult to establish a connection, with positive energies, smiles or whatever. So I was waiting for this part (i.e. the Funny Grave Site) to broke the respect and serious behaviour. After telling them the story their was a silence…10 seconds, 20 seconds…and nothing. Nobody laughed and the man asked me to take them to the hotel. I asked them many times what was wrong and I said say sorry in many languages and got no answer. When we were outside the cemetery looking for the car…they started laughing at me..and after some minutes of intense laughter the man told me…It was just that my wife is in a hurry and wants to go to the bathroom, it was the best way of going out quickly.'
More Recoleta Cemetery Stuff
So there you go, next time you go to Recoleta Cemetery, don't visit Evita – visit the grave of the couple who hate each other in death as much as they did in life!
This is almost as funny as this guide on How To Clean Headstones!
About Anthony The Travel Tart
The Travel Tart writes about the funny, offbeat and weird aspects of world travel today. Travel wasn't meant to be taken too seriously! Check out ways to say hi below or sign up for his silly newsletter!
Other Silly Posts!