Rainforest Walks In Fiji
The largest Fijian island of Viti Levu has a number of Rainforest Walks that involve a number of cultural and natural sights.
I went on a Rainforest Walk organised by Fiji Eco Tours, which is located near Nadi.  They can organise these treks, and part of their fee goes to the village guide that takes you through the Rainforest.
You will definitely experience the friendliness of the locals on the trip.  You'll almost be sick of saying 'Bula' (Fijian for Hello) and your arm will be sore from waving to everyone.
Here is an example of Fijian hospitality.  Fijian Village life is pretty simple, and people live off the land.  Here is a group of men having breakfast – some cooked pig entrails, which they offered to me – but I had a massive breakfast and wasn't that hungry 😉
Our Rainforest Walk guide for the day was Adam, from the local village.  Here is a short interview with Adam about what he does as a guide.
Adam also provided an depth description provided of the Kava Plant, where the root is mildly narcotic and is ground up and drunk in combination with water (see more at the Fiji Kava Ceremony post).  I like how he refers to the plant as 'natural family planning'.
The walk takes you though fields of wild pineapples, which are also a staple diet of local villagers.
The Eco Tour also provides descriptions of local plant and animal life.  Such as the water vine tree.  These vines are enormous and store many litres of water.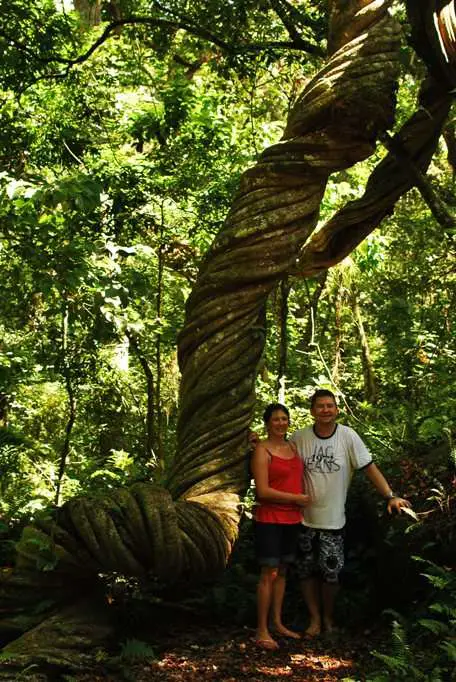 After a hot steamy walk, you're welcomed by the fresh, cool water holes provided by the running stream.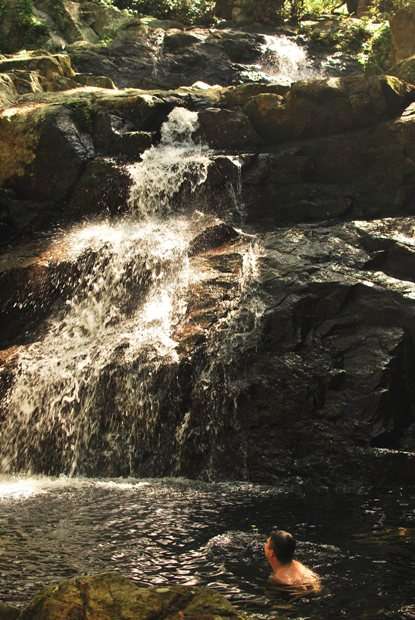 After a couple of hours of swimming, there is another walk back to the village for a big lunch – which is a big part of Fiji culture.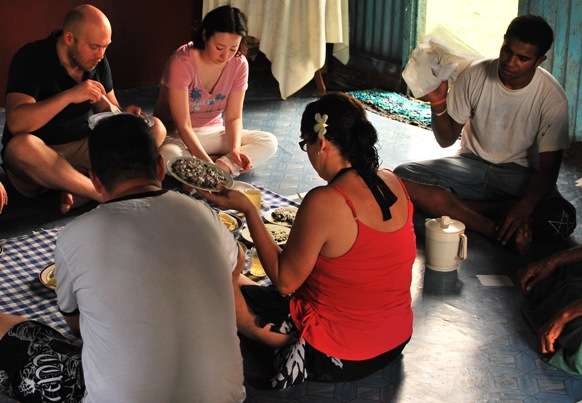 After lunch, you can go horse riding – which probably annoys the horse since you're about 10 kilos heavier after lunch.  This horse said 'get off my back you heavy bastard' when I tried to ride him.
Overall, the trip provides a good insight into Fiji Village Life, and the locals are more than happy to talk about their lives.
The trip is a great day out and provides something different to lounging around in the resort.  Like some exercise on the Rainforest Walks, plus an idea of how real Fijians live.
More Rainforest Walk Stuff
If you want to find out more, check out Recent wanderings in Fiji : glimpses of its villages, churches, and schools.
Thanks to Fiji Eco Tours and Tourism Fiji for providing this day out!
About Anthony The Travel Tart
The Travel Tart writes about the funny, offbeat and weird aspects of world travel today. Travel wasn't meant to be taken too seriously! Check out ways to say hi below or sign up for his silly newsletter!
Other Silly Posts!