Priapus – is 'Big'!
Priapus is probably the one of the funniest Travel Souvenirs I've ever seen. He is a mythical god of procreation and fertility supposedly born in Turkey.  This character is famed for the only weapon he carried, his gigantic penis. That's right, he is famous for his manhood!
Priapus was also known as a protector of livestock, fruit plants, gardens… and of course, male genitalia. And you can see him all over Turkey when you travel there. You will definitely be doing a double take when you come across his statues.
Some Priapus Images
Here is an ancient fresco of Priapus which illustrated his myth and legend: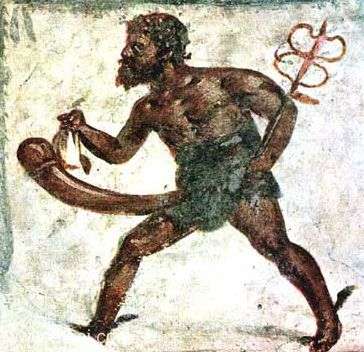 If you travel throughout Turkey, you will definitely come across a roadside stand selling Travel Souvenirs –  even wooden and/or marble statues of Priapus. You will even see overseas visitors lining up to buy these unusual collectors items for themselves, or for presents for their love ones!
Here is an example of one: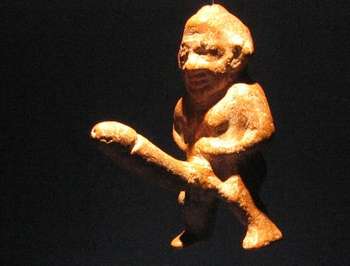 Hmm, every coffee table should have one. I would personally like to have one on the dining table for dinner parties. I am sure there would be no end of fantastic dinner conversations.
However, if Priapus is a protector of male genitalia, he was obviously absent when John Wayne Bobbitt's manhood really needed protection from the sharp scissors of scorned Lorena.
Yep, he definitely isn't real! He's just a myth!
Priapus – a Customs Nightmare!
Anyway, just say if you bought this statue of Priapus – can you imagine what the airport scanners would think if this thing was stuffed in your luggage?
Or even worse, having to declare these dodgy looking statues at customs in your home country?
Somehow, I don't think so!
And I don't think he's related to the Plush Black Teddy Bear (Thumples) toy with I Love Priapus on Amazon!
So the next time you're in Turkey, you can too buy Priapus as one of your Funny Travel Souvenirs!
About Anthony The Travel Tart
The Travel Tart writes about the funny, offbeat and weird aspects of world travel today. Travel wasn't meant to be taken too seriously! Check out ways to say hi below or sign up for his silly newsletter!
Other Silly Posts!