My Nuts Are Probably Salty!
My Nuts is usually something most males think about if they've been kicked there accidentally. That would be every male on the entire planet, including myself. It's enough to make your eyes water and will force you to clench your legs for many, many long minutes.
However, the term 'My Nuts' probably isn't usually associated with something you can eat. Well, not for me anyway.
But check out this Interesting Travel Photo taken by Carrie Kellenberger from My Several Worlds (you can follow her on Twitter at Globtrotteri). I had a good laugh at this when she first sent this picture to me!
My Nuts Photo – Totally Piss Funny!
Carrie took this absolutely piece of gold travel humour from a local supermarket in Taiwan. I'm going online now to order an entire crate of these packaged peanuts and cashews to munch on!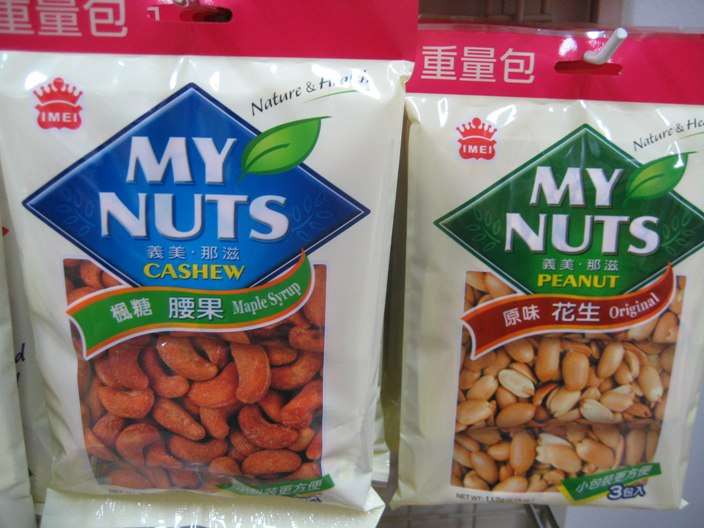 However, when I was looking at this picture, I couldn't help but think of how the marketing department would work at the My Nuts corporation head offices. I can imagine all of the great chats between advertising executives on how to maximise the mileage of this unique brand!
Hmm, I can imagine the public relations campaign for My Nuts.
'My Nuts are the freshest around'
'Make sure you eat My Nuts'
My Nuts are sooooo Salty!
My Nuts are crunchy in your mouth…
The possibilities are endless… God, I could talk about my nuts all day..
It's probably just another case of Engrish gone wrong. But that's the joy of travelling, coming across funny stuff like this that gives you a chuckle, even though it seems completely innocent to the locals!
After you've finished checking out this Interesting Travel Photo and eating My Nuts, check out my 52 Tips for Weird Food or Drink, try Tea With Egg, or Cow's Nose With Peanut Sauce!
For more political incorrectness, check out my very long list of Russian Swear Wordsm Slang and Expletives, Spanish Insults and Funny German Expressions.
Other Silly Posts!