Motorbike Transport – Six Pigs on a Scooter!
Today I've got a funny travel photo regarding Motorbike Transport from Margie's Vietnam Tours and Vietnam Cycling Vacation.
It's part of the Masters of Transport and Logistics series I have which includes How To Ride A Bike With an Ox and the Bali Scooter. This series applauds the genius of people who live in places with not much at all who manage to transport objects, live stock and other miscellaneous things in volumes that should greatly exceed the engineering capacity of the vehicle involved!
Anyway, today's Master of Transport and Logistics is the pig transport scooter – Motorbike Transport Services Vietnamese style!
That's right, there are six pigs (yes, you heard me correctly, six!) being transported by this scooter! And there isn't much room left for anything else! Like the cliché of 'being crammed in like sardines', well you can add this one to the list – being crammed like pigs on a Vietnamese Scooter.
This is just crazy!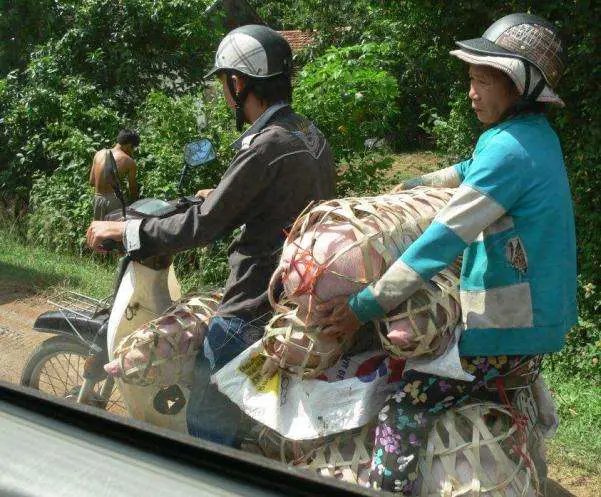 This Motorbike Transport Service photo is something that is commonly seen on their trips. But once again, it's a result of the improvisation required to transport things around the country when you don't have much money. But somehow, it just seems to work and it does the job!
Sure, this sight is not going to pass western health and safety standards, but seeing this stuff makes one grateful that you don't have to do this as a job every day just to survive and put food on the table.
More Motorbike Transport Services Stuff
If you want to see more cool sights like this, see more at  Margie's Vietnam Tours and Vietnam Cycling Vacation.
I don't think this bike riding method appeared in The Expat's Guide on How to Get A Motorcycle Licence in Vietnam.
About Anthony The Travel Tart
The Travel Tart writes about the funny, offbeat and weird aspects of world travel today. Travel wasn't meant to be taken too seriously! Check out ways to say hi below or sign up for his silly newsletter!
Other Silly Posts!