LOL Drink – is crap…
Today's Funny Travel Photo is from Sasha from On Ur Way Travel. It's a LOL Drink and it's hilariously named – Kick A Poo Joy Juice. The name itself sounds like a clear cut strategy to transform your white shoes into brown with one swift swivel of your leg!
Kick A Poo Joy Juice is apparently a tasty citrus based soft drink that is popular in a few Asian countries like Singapore, Malaysia, Brunei and Bangladesh. Some of their advertising slogans in include "finding joy –  ha ha ha" and other phrases I don't quite understand.
The name of this soft drink has interesting origins. Kick a Poo was a fictitious alcoholic drink that was created for a comic strip called Li'l Abner which ran for a very long time – from 1934 through 1977. However, some deal was reach to use the name during negotiations with the manufacturer of the real world soft drink.
Apparently, like one of Sasha's earlier photos about French Lemonade, this LOL Drink doesn't taste like Pschitt. In fact, it's quite a refreshing drop on a very hot and humid day, which is pretty much every day in South East Asia! But is it as nice as a cold beer though?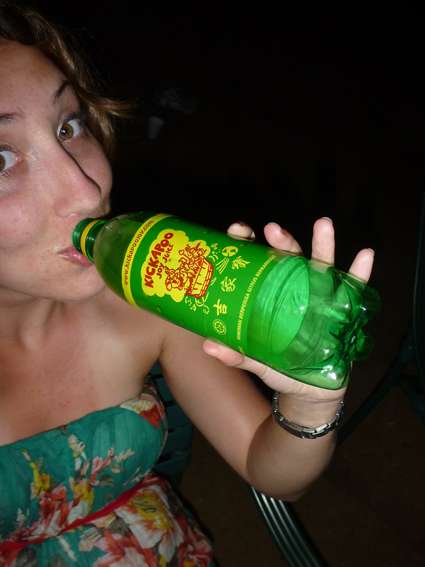 Kick A Poo should be added to the Funny Shopping Product Names Found When Travelling. Once again, the name might be totally innocent where the origin of the product occurs, but it might mean something completely different to another culture or language!
So the next time your swigging a mouthful of juice, think of Kick A Poo Joy Juice and try and erase the mental image of the strange sounding name that makes you think twice about what you are drinking!
More LOL Drink Stuff
If you've got any LOL Drinks, drop me a line and I'll feature it!
Cheers, to Kick A Poo!  Sounds like The Joys of Engrish to me!
About Anthony The Travel Tart
The Travel Tart writes about the funny, offbeat and weird aspects of world travel today. Travel wasn't meant to be taken too seriously! Check out ways to say hi below or sign up for his silly newsletter!
Other Silly Posts!