Today I've got an unusual video from my mate at Curious Drifter about How To Make Thai Iced Tea in Bangkok.
He captured this amazing footage on a South East Asia trip, which inevitably leads everyone to Bangkok, the capital of Thailand.
Now because Bangkok is a pretty hot and humid place, cold drinks are the go to keep you cool. My preference is an icy cold beer as nothing beats this on a hot day, but others might prefer Thai Iced Tea – which is basically a concoction of ceylon and black tea, mixed with orange blossom water, star anise, tamarind, spices and condensed milk. Coconut milk or evaporated milk is then added and then the whole lot is poured over crushed ice.
Thai Iced Tea is sometimes very sweet – you might have to jab yourself with an insulin shot just to get through one.
This stuff is similar to the Shaved Ice with Red Beans drink I've had in Indonesia.
However, what's more amazing about the tea are the techniques used to mix it.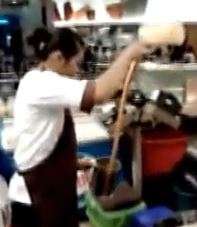 How to Make Thai Iced Tea in Bangkok
Check out the skill of the 'barista' here. If I tried doing this, I'd spill half of the mixture onto the floor! Note the footage was taken with a mobile phone so it's not exactly cinema quality, but you get the idea!
There you go for those who want to try this at home!
So if you're in the mood to give this a go, you'll need to buy some Thai Iced Tea Traditional Restaurant Style!
About Anthony The Travel Tart
The Travel Tart writes about the funny, offbeat and weird aspects of world travel today. Travel wasn't meant to be taken too seriously! Check out ways to say hi below or sign up for his silly newsletter!
Other Silly Posts!