Tea With Egg, or Teh Telur – Tastes Awesome!
Tea With Egg is probably not the most obvious combination when it comes to downing a hot beverage.
I usually have tea with milk if I do drink it, and I like my eggs poached or scrambled.
I never thought about combining my solid and liquid components of breakfast into the one single source of sustenance as a midnight snack.
However, I'm staying with Taufik and his family in central Sumatra, Indonesia, and he suggested that I try it.
'It is a specialty of Pekanbaru'. he said to me.
I thought, why not?  I've tried worse things before. Like some dodgy airline food. Actually, the only time I have experienced food poisoning was eating a dodgy steak sandwich from a pub in Australia.
But anyway, I tried this stuff, and to my surprise, Tea With Egg/Teh Telur is actually pretty good!
So here is how to get hold of one:
Tea With Egg / Teh Telur in Pictures
First of all, find a stall in Pekanbaru, central Sumatra, in Indonesia that serves this stuff.  Ask for Teh Telur.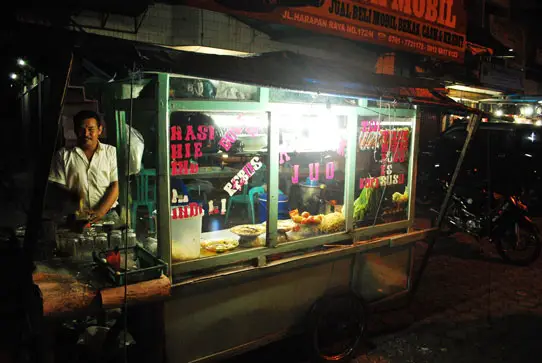 Secondly, crack one egg into a glass, and whisk until frothy.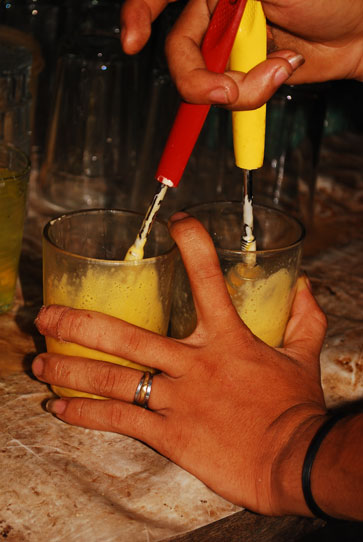 Thirdly, add sugar, sweetened milk and boiling tea to the mix.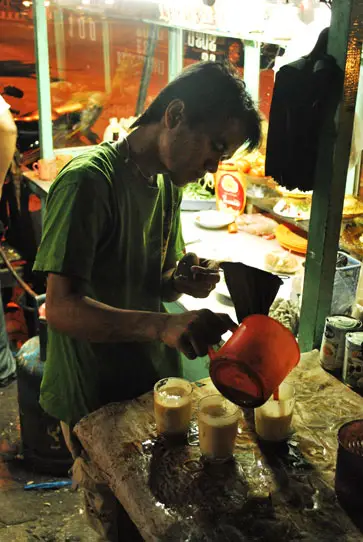 Presto, you have Tea With Egg – a fantastic way to have a protein mix!
Have a few more and become the biggest beefcake in your town!
Maybe you could try this at home.  I highly recommend it if you like to try something different.
Other Things To Have Besides Tea With Egg
Check out more at Eat Smart in Indonesia: How to Decipher the Menu Know the Market Foods & Embark on a Tasting Adventure.
Anyway, thank to Air Asia for helping me get to Indonesia so I can try Teh Telur! Check out their website for their cheap fares all around Asia!
About Anthony The Travel Tart
The Travel Tart writes about the funny, offbeat and weird aspects of world travel today. Travel wasn't meant to be taken too seriously! Check out ways to say hi below or sign up for his silly newsletter!
Other Silly Posts!