Howdy! Today I've got a 'WTF is that' funny travel photo from a Granada Hostel in Spain.
There's nothing like a quirky hostel room!
It's from Sofie who runs Wonderful Wanderings. You can say hi to her on Instagram.
You know what, there's nothing wrong with a hostel that's a little bit left of field. I've stayed in a few, such as Kadir's Tree Houses in Turkey. There's nothing like climbing up a tree after you've had a few too many Efes Pilsens, and then waking up seeing a trunk smack bang in the middle of your room.
Some of the other strange things about hostels around the world featured on this silly website include the No Bullshit Hostel and the Guest Hanging Area.
But today's involve an interesting piece of art work that is somewhat.. ahem.. explicit!
Anyway, here's some commentary from Sofie – 'I'd booked a private room at a hostel with a (girl) friend. When we got there, we were handed a key with a heart on it and when we opened the door, there were these mirrors attached to the ceiling and this big Karma Sutra drawing on the wall.
Apparently, that was the only private room at the hostel and it clearly wasn't meant for friends traveling together :)'
Well, there's nothing like trying to get your hostel guests into the mood…
I want to stay in this Granada Hostel!
Even if it is weird arse! What the?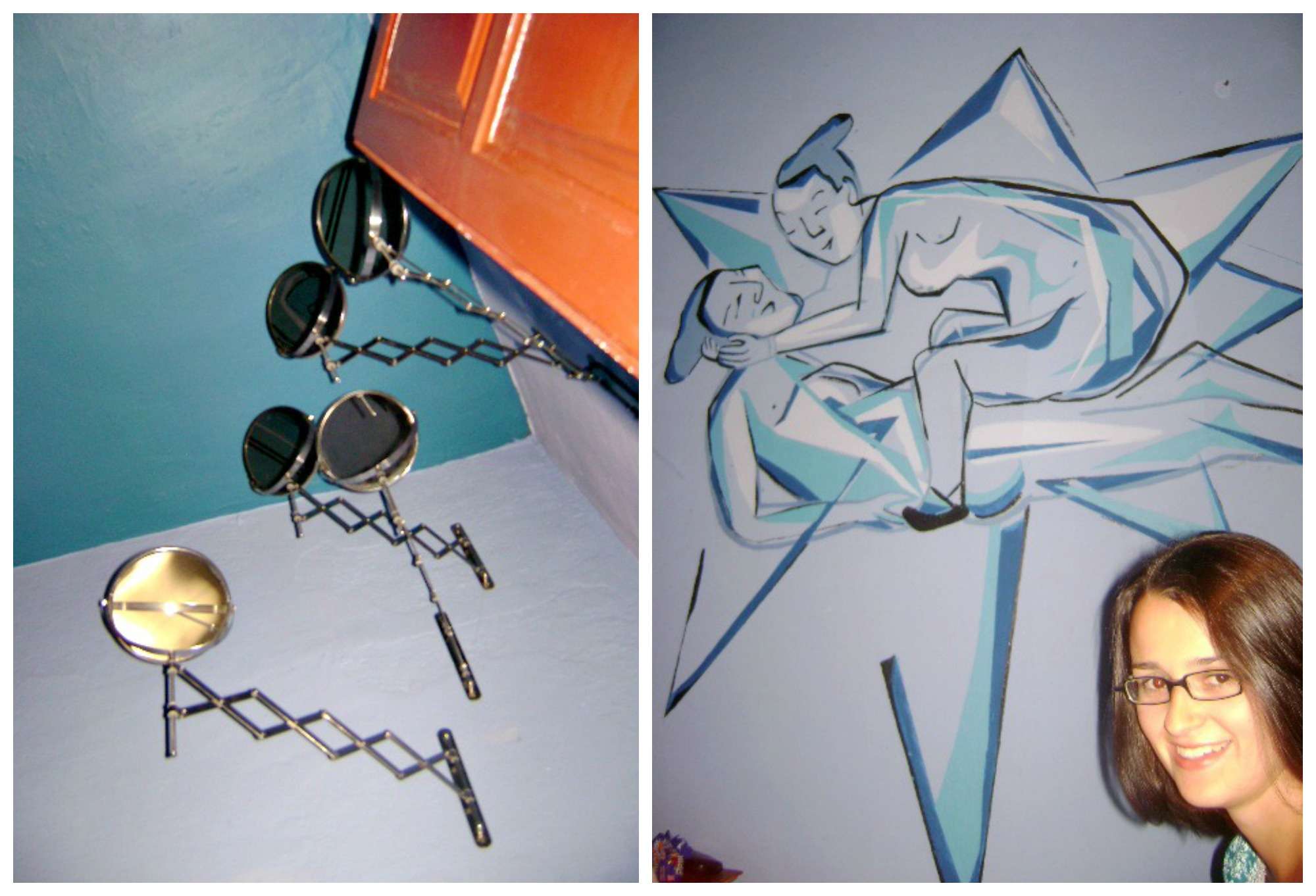 Anyway, even if this room wasn't something that Sofie and her (girl) friend were exactly after, she does have a funny travel photo that she can talk about at her dinner party conversations for many years!
How about you? Have you stayed in a hostel (or any other form of weird accommodation) where you thought this is just way too bizarre?
Well let me know and if you've got photos, I'll feature it on this stupid website and clog up the internet with more stuff!
See more at my silly list of Spanish Swear Words, Slang and Expletives!
Other Silly Posts!