Fishmonger Seafood Dance – Marketing and Functional at the Same Time
One great thing about going to the Pacific Islands is trying out some of the sensational seafood that's available, such as the fish and grilled lobster. Yummo. Maybe not the Sea Cucumber Guts in Lime Juice, but if you're in Samoa, there are a few fish markets around where you can view the catch of the day from the local Fishmonger.
Here is a picture of one of the locals below trying to ply his trade at the fish markets on Savai'i island.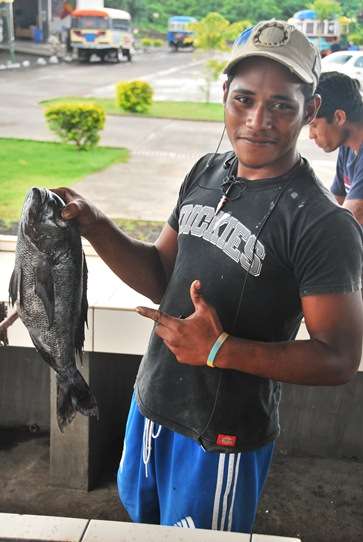 However, I came across one very enterprising fishmonger who wanted to draw my attention to one of his fish so I could fork out a few tala to cook it up that night. Once he grabbed my attention, this included waving a branch around combined with a strange boogie which caused me to focus my eyes on his fish. But his branch also doubled up as a fly swat in the hot humid weather which seemed to attract a tonne of flies to the fish market!
Anyway, you get the idea! Whilst this guy's sales pitch dance was entertaining, I didn't end up buying any fish from him because I didn't want to stink out the many forms of transport I was using in Samoa! He definitely wasn't taking himself too seriously at all! But that's typical of the characters I came across in Samoa – all pretty laid back and taking things easy!
Also, check out the two guys snoozing in the background chilling out! Love it! There's nothing like the laid back pace of Samoa!
More Fishmonger Stuff
For more cool stuff about the friendly locals, see more at the Samoa Tourism Authority website and maybe The Fishmonger's Apprentice: The Expert's Guide to Selecting, Preparing, and Cooking a World of Seafood.
Other Silly Posts!