Okay, here's one for people who like taking their appreciation of strange food from around the world that little bit too far – it's the Chicken Head for lunch!
I came across this squeamish dish when I travelled through Indonesia. Indonesian food is remarkable in terms of it's diversity of flavours between different islands, and it ranges from sweet to spicy to everything in between. I love the stuff but it's hard to find the rare dishes outside of this archipelago. And that includes eating parts of an animal you normally wouldn't do back home.
In countries that are much less fortunate than others, the whole animal is eaten and nothing goes to waste because sometimes, you don't know where you next meal is coming from. There's nothing like those portions of meat that are packaged neatly in your local supermarket. It's amazing how much of the animal is thrown away to rot in a landfill or used in pet food to satisfy our sanitised tastes!
This is called 'Whole Animal Eating', or Nose to Tail Cuisine! Where every part of the animal, including the offal bits that most Westerners baulk at, is consumed and made tasty via a concoction of ingredients – sometimes! Other examples I've tried include Cow's Nose with Peanut Sauce which wasn't too bad until I found the unusual combination of meaty and crunchy at the same time a little bit too much!
Anyway, would you eat this if it had landed on the table in front of you?
The Chicken Head lunch!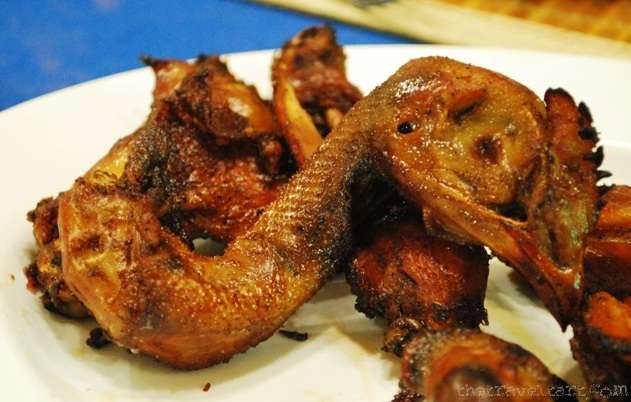 I wasn't quite brave enough to eat this, even though I do like trying the weirdest and most unusual food when I go travelling.
At least this stuff isn't mystery meat that tastes like chicken. You actually know that this stuff is the chicken for dead certain!
Bon apetite! Hoping this dish wins a Michelin Star soon!
About Anthony The Travel Tart
The Travel Tart writes about the funny, offbeat and weird aspects of world travel today. Travel wasn't meant to be taken too seriously! Check out ways to say hi below or sign up for his silly newsletter!
Other Silly Posts!