Today's Funny Travel Photo was sent to me as a joke via email. It's about some funny Bucket Seats. I'm not talking about some interior reclining sports car specialised device that is installed as an after market addition to your high powered car! No, this kind of seat is way more simpler than that and more widely available!
And when I mention the term Bucket Seats, I literally mean, Bucket Seats. Not sure who took this, but I had a giggle at how this photo comes across upon the first view. It looks like it was taken from within a bus. For all I know, it could be completely doctored and false, but it wouldn't surprise me if this was an unaltered photo either after seeing many examples around the world of people greatly exceeding the engineering capacity of their vehicles!
The Funny Bucket Seat Photo!
Here it is! Try not to laugh!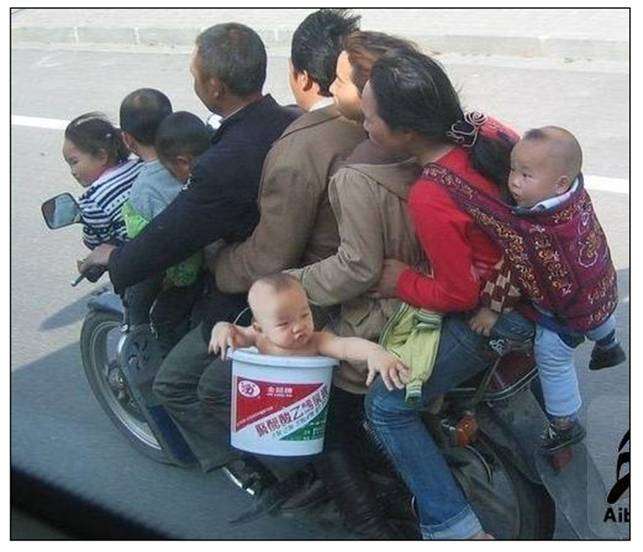 Unfortunately, this situation is a common sight and reality all throughout the third world. Health and safety officers of the western world would normally have a heart attack after viewing an image like this!
Most people can barely afford a motorbike, let alone a car, so this scene comes under my series of Masters of Transport and Logistics.
This is where either large amounts of people or things are miraculously transported on devices that are way beyond the engineering capacity of the vehicle.
My previous salutes to these Masters includes How To Ride A Bike with an Ox, The Auto Rickshaw, and the Satellite Transporter. These examples are all miracles, so maybe the Vatican should nominate all of these people to become the next Saints! They've impressed me!
About Anthony The Travel Tart
The Travel Tart writes about the funny, offbeat and weird aspects of world travel today. Travel wasn't meant to be taken too seriously! Check out ways to say hi below or sign up for his silly newsletter!
Other Silly Posts!