Drunk Amazon Rainforest Bird Wildlife?
Today I've got a Funny Travel Photo from Lee Abbamonte. You can follow @leeabbamonte on Twitter. He's got an enviable travel record – he's the youngest American to travel to every country in the world! Remember, that's over two hundred if the number of teams competing at the Olympics is anything to go by. Anyway, the funny travel picture is the beer drinking macaw in Brazil! Not what you normally see in terms of Amazon Rainforest Bird Wildlife!
Cheers bro. There is nothing like a beer to quench a burning thirst! Bottoms up! I would like to have this bird become my drinking buddy sometime!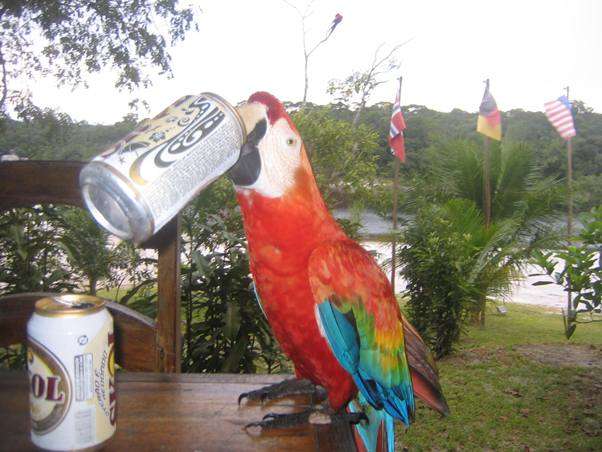 Well, when you are really thirsty in a hot humid climate, there is nothing like downing an ice cold beer. Nothing else, including water, orange juice or soda comes close to making you feel better when you take a swig of the golden amber ale. And it seems this is also true for large colourful Brazilian parrots who spend their day flying around the Amazon region!
I notice that the Macaw is getting stuck into a Brazilian beer called Skol. I've drunk the Skol beer at the Brazilian side of Igauzu falls which Brazil shares with Argentina, which is one of the most spectacular places in the world I have ever visited.
It's not a bad drop especially on a hot day. I'm almost tempted to include this really cool parrot on my rather dodgy Beer Index!
Remember, beer natural. Soda is made from all sorts of chemicals that required to be transported in hazardous goods vehicles!
More Amazon Rainforest Bird Wildlife Stuff
I have a very strong feeling that the beer drinking parrot didn't make the cut of Amazon Parrots (Barron's Complete Pet Owner's Manuals). But it would have been awesome if it had!
About Anthony The Travel Tart
The Travel Tart writes about the funny, offbeat and weird aspects of world travel today. Travel wasn't meant to be taken too seriously! Check out ways to say hi below or sign up for his silly newsletter!
Other Silly Posts!