African Doctor Funny!
This African Doctor, Dr Juma can do anything! Today, I've got more pure gold from this fantastic and amazing continent. Africa is usually a great source for funny travel photos, because their interpretation of English can morph into the funny, bizarre and downright weird, which tends to come out in a lot of their signage. But that's one of the reasons I love going there. There is nothing pretentious about Africa, and what you see is what you get.
And that includes medical services from Dr Juma, who is most likely a Witch Doctor. He even spruiks his own services on a massive hand painted billboard on the side of the road to get the clients in.  And his services go beyond the standard medical variety as well. I was amazed at what he was offering!
I must say, he is one enterprising African Doctor. I want to nominate him for entrepreneur of the year!
This picture was received via email from a friend – check it out and have a chuckle!
See what this African Doctor Can Do!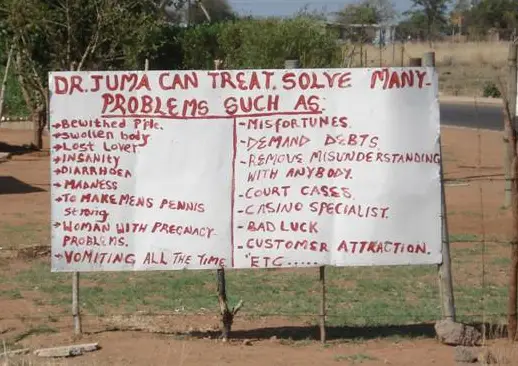 If you are having trouble reading this sign, this is what Dr Juma can offer you:
Bewitched People (huh?)
Swollen body
Lost lover
Insanity
Diarrhoea
Madness
To make men's penis strong!
Woman with pregnancy problems
Vomiting all the time
Misfortunes
Demand debts
Remove misunderstanding with anybody
Court cases
Casino specialist (woo hoo!)
Bad Luck
Customer Attraction
Etc…
Etc? Sounds like he can do anything you want him to! I love this sign!
If you're travelling in Africa and are feeling a bit sick (or even a bit short of money!), then you can visit Dr Juma the African Doctor and he will fix everything!
I'm guessing Dr Juma hasn't read Where There is No Doctor: Village Health Care Handbook for Africa.
About Anthony The Travel Tart
The Travel Tart writes about the funny, offbeat and weird aspects of world travel today. Travel wasn't meant to be taken too seriously! Check out ways to say hi below or sign up for his silly newsletter!
Other Silly Posts!