Zip Lining Adventure Time!
Zip Lining Adventures in the Fiji Rainforest is a good excuse to get away from that nice resort that you're staying in on the Coral Coast and have a bit of fun!
Actually, you might need to do some Zip Lining to work off the enormous quantities of food people tend to eat when visiting Fiji!
Basically, Zip Lining (or the Flying Fox – an Australian term) is stringing steel cables between a number of trees, then attaching yourself to them via a pulley, and hurtling yourself down them.
It's great fun!  People of all ages can do Zip Lining, and you can reach speeds of up to 70 kilometres per hour (around 44 miles per hour).  Ironically, this speed is only 10 kilometres below the official National Road Speed Limit of 80 km/hour!
I reckon the guys who take you around the Zip Lining course love their job, based on this photo I took!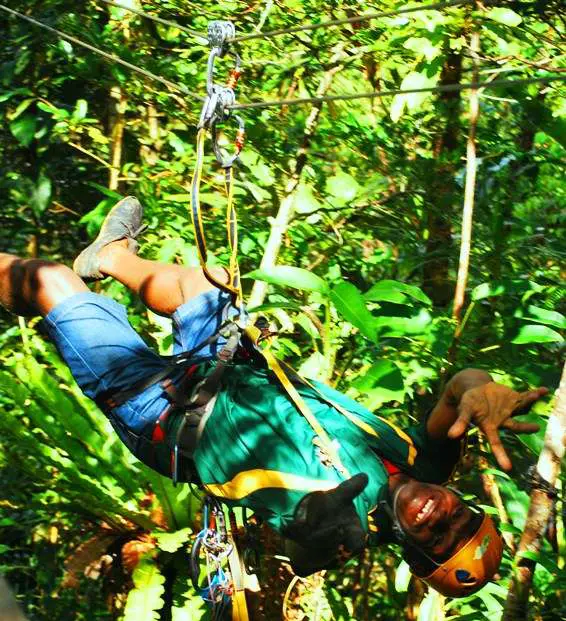 The Zip Lines are located on the Coral Coast of Fiji (check out Zip Fiji), on the southern part of the main island, Viti Levu.  It's easy to get there, as most accommodation places can organise the transfer.
Zip Lining started in Fiji in 2007.  The course contains 8 Zip Lines, and it took about 5 weeks to build.
There are a total of 8 Zip Lines on the course – the shortest is a quick transfer of 15 metres (around 50 feet), with the longest around 220 metres (720 feet).  The total length of Zip Lines is around 1 kilometre, or 0.6 of a mile.  It takes about 40 minutes to an hour to traverse the course.
Unlike many rainforests in the world, the Fijian Rainforest doesn't contain any nasties that are likely to eat, poison, or kill you.  On the day I went, I saw whole families undertaking Zip Lining.
Toddlers are often strapped to their parents while they Zip Line through the Rainforest, and the oldest person to undertake Zip Lining was 84 years old.  I even overheard one kid say 'Mummy, that was great, I want to do it again!'.
In fact, the guys who run the Zip Lining Adventures are so committed to showing everyone a good time, they have even taken a paraplegic man around the circuit.  One of the guides had his wheelchair strapped to him throughout the entirity, while the other carried the guy around on his back!
At first, the guides give a comprehensive safety review of Zip Lining.  Basically, the lines are capable of holding around 5000 kilograms (or around 11,000 lbs).  The harnesses themselves can handle around 225 kilograms, or around 500 lb.
It's great that the Zip Lines are over-engineered like this so even heavy sods like myself can experience this great activity.
But don't take my word for it.  Here is an example of the instructions that are given before you start Zip Lining.
Zip Lining Videos
And here are some examples of Zip Lining:
This is the shortest Zip Line – the 15 metre line:
This is one of the best Zip Lines – 180 metres, but you can touch the Rainforest trees!
And this is the longest line at 220 metres, the final run.
More Zip Lining Stuff
If I've made you want to Zip Line, you can read more about Zip Lining in Zip Lines – Action Sports.
I'd like to thanks Zip Fiji and Tourism Fiji for providing this great day out of Zip Lining.
If you are ever in Fiji, check it out!  It's good fun!
About Anthony The Travel Tart
The Travel Tart writes about the funny, offbeat and weird aspects of world travel today. Travel wasn't meant to be taken too seriously! Check out ways to say hi below or sign up for his silly newsletter!
Other Silly Posts!