Women Only Trains – A Solution To Potential Groping
If you're ever cruising around on the Tokyo Metro System, you might notice a sign like this about Women Only Trains. I spotted this interesting sign on a G Adventures trip to Japan.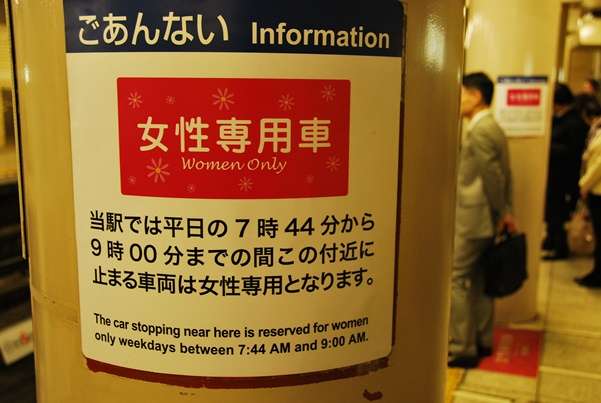 Like most signs around the world, including your home country, there is always a reasoning for their construction and display for public view. Some of these gems include the Be Nice To Health Workers Sign, the No Corpses Allowed at a Locker, No Durians in Singapore and Cultural Awareness in Thailand!
And sometimes, that reasoning is justified, or often it's really bizarre!
Women Only Trains – The Reasoning
You might think having a Women Only Train (or carriage to be more precise) is a bit unusual, but there is a good reason for this. The vast majority of Japanese people are awesome, polite individuals,  but like in any society, there are going to be a few idiots who spoil things for the rest of us.
As Tokyo is a massive city of over 20 million people, their mass transit systems, whilst working very efficiently, can be quite packed at some times of the day – which means this gives unsavoury groper types the temptation to move their hands to inappropriate body parts when you are jam packed in a train carriage like sardines. In fact, being place in a sardine tin might actually be spacious in comparison!
As an example, the world's busiest train station at Shinjuku handles 3 to 4 million people per day. That means that a lot of crammed subway carriages at peak hour with lots of bodies pressed up against each other.
Hence, the Women Only Trains at peak times. Strange, but true.
More Women Only Train Stuff
For more Japanese Rail stuff, check out Japan by Rail.
About Anthony The Travel Tart
The Travel Tart writes about the funny, offbeat and weird aspects of world travel today. Travel wasn't meant to be taken too seriously! Check out ways to say hi below or sign up for his silly newsletter!
Other Silly Posts!