Weird People WTF!
Today I've got a Funny Travel Photo about Weird People from Raymond from Man On The Lam. You can follow @ManOnTheLam on Twitter.
It's of the Blind Punk from Bangkok!
What the hell! I have no conceivable explanation of this photo!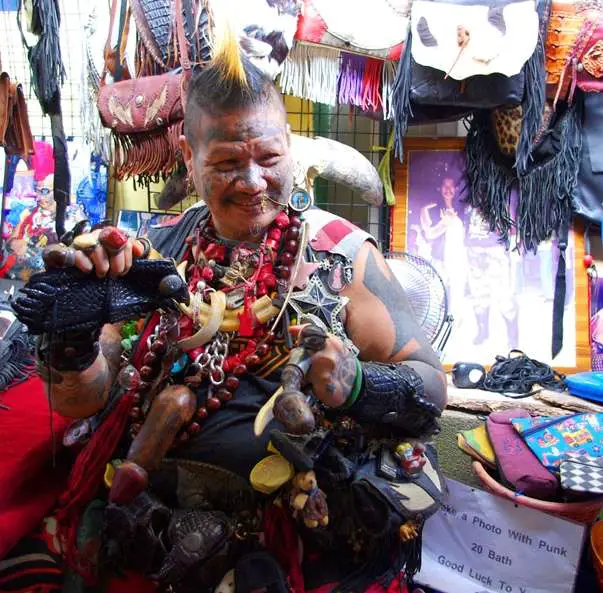 What's most bizarre about this Weird People Photo is this guy's Punk Clothing. This dude has more bizarre bling than Mr T!
Check out the phallic wooden things around his neck! What the hell is that all about? It's not something that I'd like to wear to a night club.
Weird People Pictures
Raymond says this about this Weird People Photo – 'It's a blind punk at the Chatuchak Weekend Market in Bangkok. For 20 Baht, you can take a photo of him. I was going to tell him for 50 Baht I would tell him what's around his neck.'
Looks like the Blind Punk probably makes more money charging people for photos in his Punk Clothing than from the stuff he sells at his stall!
I'd pay him more to watch him sing Never Mind The Bollocks from the Sex Pistols.
After marvelling at this Weird People Photo of the Blind Punk, check out more at They Did WHAT?!: Your Guide to Weird and Wacky Things People Do and Weird People: We Are Stranger Than We Think.
About Anthony The Travel Tart
The Travel Tart writes about the funny, offbeat and weird aspects of world travel today. Travel wasn't meant to be taken too seriously! Check out ways to say hi below or sign up for his silly newsletter!
Other Silly Posts!