Water Transport – for about $2!
Today I've got an unusual travel photo from my friend from Curious Drifter – it's of a kind of Water Transport made from a Floating Washing Bucket!
And this little girl paddling away in this floating piece of plastic in the murky water is unbelievable!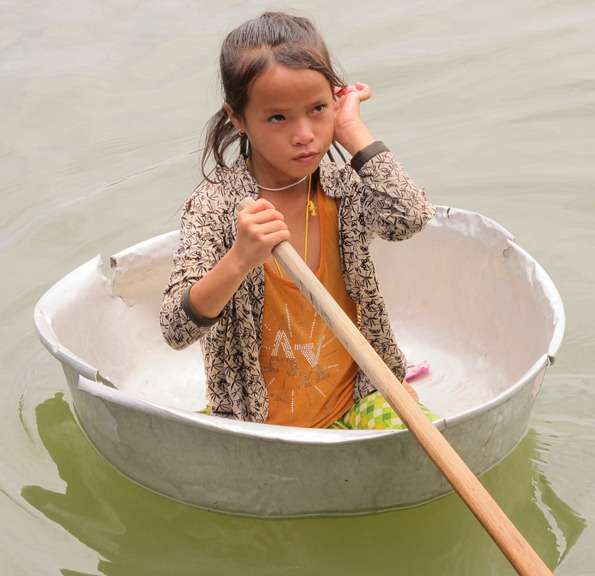 The Floating Washing Bucket Boat is an incredible piece of Water Transport improvisation that must be added to the list of Masters of Transport and Logistics – which includes How To Ride A Bike With An Ox, the Chinese Bucket Seats, Auto Rickshaws, and the Bali Scooter. These are the left of centre modes of transport that people use to move from Point A to Point B.
The Masters of Transport of Logistics series pay tribute to the amazing lengths that people who have nothing, manage to make do with whatever they have – which is usually nothing. Hats off to them I say! They are the best recyclers in the world!
Anyway, this photo was taken on the Tonle Sap Lake in Cambodia. This little girl lived in one of the floating villages at the lake and amazingly transported her way around using a paddle and this small bucket.
The Water Transport Video – Insane!
He even took some video footage which shows that this girl would win a rowing gold medal at the Olympics for Cambodia if she was entered.
Check this out! She manages to work up some speed in quick time!
Crazy!
More Water Transport Stuff
If this Water Transport post has inspired you to do something amazing on water, check out Ocean Liners: Crossing and Cruising the Seven Seas and my funny boat jokes and names.
About Anthony The Travel Tart
The Travel Tart writes about the funny, offbeat and weird aspects of world travel today. Travel wasn't meant to be taken too seriously! Check out ways to say hi below or sign up for his silly newsletter!
Other Silly Posts!