Warning Signs – What Warning Signs?
Today's WTF Travel Photo is of the Warning Sign at the Grand Canyon – probably one of the most useless Warning Signs I've ever come across!
Check it out!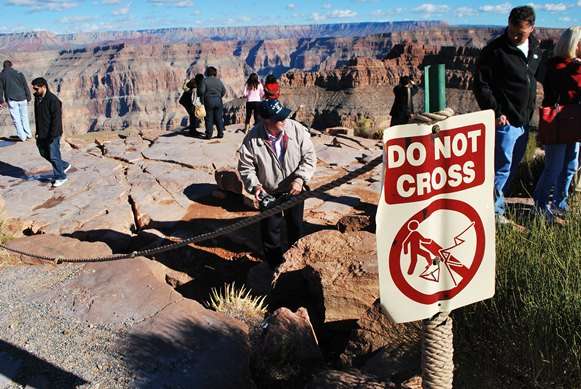 See those people right on the edge of the Grand Canyon? Well there's about a couple hundred metres of air between the ledge and certain death!
Unfortunately, that single piece of rope isn't quite enough of a deterrent to stop death defying tourists from crossing over the line!
I think these people were trying to avoid the cover charge to try the Grand Canyon Skywalk and thought the more riskier option of having no safety barricades might save a few bucks!
This is surprising, considering the litigious environment that exists in the United States!
Oh well!
More Warning Signs Stuff
For more Warning Signs that could have been useful, maybe they should have used the following sign: NO TRESPASSING: Violators Will Be Shot!
Other Silly Posts!