Venzone, Italy – Funny Postcard and Mummy Central!
Venzone is a small town in the Friuli  region, in northern Italy. And as you will soon find out, it's home of a very Funny Postcard!
I have relatives who live in Friuli and they decided to take me around this fantastic part of Italy.
Venzone's main claim to fame was that it was almost completely demolished by a massive earthquake in the 1970's.
The whole town was rebuilt to it's original design, and rubble sourced from the original buidlings was used as much as possible in the reconstruction.  In fact, special laws were passed to ensure Venzone remained identical to it's pre-collapsed form.
However, while building an entire town from rubble may sound a tad offbeat, it's not the strangest thing about Venzone.
Venzone Funny Postcard
Check out the following Funny Postcard below that I obtained from Venzone – what do you see?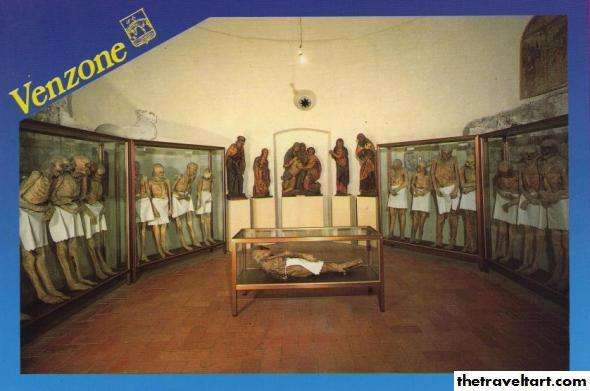 That's right – it's a bunch of mummified bodies encased within a few glass cabinets!
This postcard was taken at a Chapel museum which now charges tourists to view these preserved persons.  These mummies are nowhere near as old as those found in Egypt – only a few hundred years old.
During medieval times, some routine renovations and excavations occurred at the Chapel – and the workers discovered a  number of preserved bodies.
One theory is that the bodies were preserved by alkaline floodwaters that ended up preserving the cadavers.  Another theory is that the soil type in the area also promotes body preservation.
So if you feel the need to view some mummies, and you're nowhere near Egypt – Venzone is the place for you! And you too can score this Funny Postcard!
More Venzone and Funny Postcard Stuff
You can read more at Sulle Mummie Di Venzone: Memoria (1831) (Italian Edition). That's if you can understand Italian!
For more about the Friuli region, see Friuli Venezia Giulia – Italy's Hidden Region.
Other things to do in Italy after visiting the mummies of Venzone – get your shoes repaired at a Cobbler, watch some dodgy Italian Television and check out The Worst Drivers In The World.
About Anthony The Travel Tart
The Travel Tart writes about the funny, offbeat and weird aspects of world travel today. Travel wasn't meant to be taken too seriously! Check out ways to say hi below or sign up for his silly newsletter!
Other Silly Posts!