Tune Hotels Review
Have you ever turned up to an airport at midnight, dreading the prospect of haggling with a taxi driver that may take you on a special 100 buck early morning scenic tour, a la Mean Streets: Confessions of a Nighttime Taxi Driver?
Or, if you want to avoid that, mortgaging your house to pay for the convenience of an overpriced room at an expensive hotel chain walking distance from the airport?
Even worse, sleeping at the airport itself on a poorly cushioned chair that you're trying to share with other tight arse travellers – and cockroaches?
Yes, I've been in all of these situations.  And they all really suck.
But I've come across a viable alternative which promises to eliminate all of those dodgy late-night-accommodation-searching scenarios.
It's called Tune Hotels.  And they operate in the same manner as many of the low cost airlines do – you pay for what you want.
When I first heard about the concept, it sounded a bit strange to me – paying the different components of accommodation separately.  But after staying at Tune Hotels, it now makes perfect sense.
Biresh from Tune Hotels kindly let me crash at their Low Cost Carrier Terminal (LCCT) hotel at Kuala Lumpur, Malaysia.  I needed a place to sleep overnight after my awesome month long trip through Indonesia, and I was able to see what Tune Hotels are all about.
This is the Tune Hotel at the Kuala Lumpur LCCT: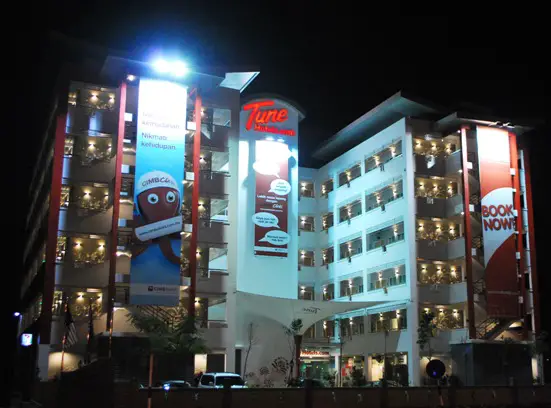 Anyway, this is how the system at Tune Hotels works:
First of all, there is a room base rate.  The base rate includes the room per night only.  The room includes a comfortable bed and bathroom with hot water and powerful showers.
The base rate at Kuala Lumpur airport starts at RM 9.99, or about $USD3 per night depending on availability and the length of time booked in advance (similar to how a low cost airline works).  Even if you book at short notice, the rates are reasonable.
The longer you book in advance, the cheaper the price.
You then pay for the extras you want.  Add-ons include things like air-conditioning, towels and soap/shampoo.  Or otherwise, you can bring these things yourself.
There's more on the Tune Hotels concept here at their website.
This is a typical room. They can be a bit small (or 'space efficient' as Biresh says!) , but they more than do the job.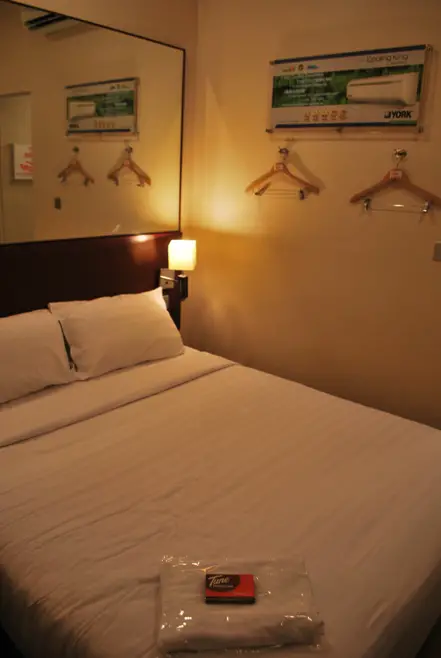 The Tune Hotel rooms themselves are modern, basic and clean.  There's no television or phones, but many travellers don't need these anyway. They just want a place to crash that's clean without the bonus of insects that may find their way into your mouth when sleeping the night away.
If you want air-conditioning, this is paid for in 12 hour lots.  There is a timer in the room which lets you know how much air-con time you have left.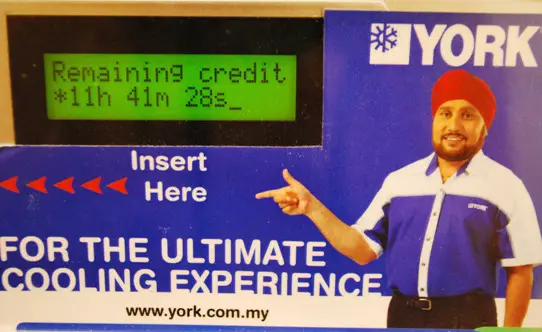 I like the idea of the air-con vouchers. It stops energy hungry sods from leaving the air-con on all day just so the room is cool when they come back to sleep again, thus preventing the unnecessary release of greenhouse gases which will raise sea levels by a few more millimetres.
With regards to paying for towel rental, do you use a different towel each day at home? Neither do I.  Many backpackers bring their own anyway.
Even the toilets and shower facilities are great!  I had just spent a month backpacking around Indonesia using only a bucket for a shower, and I found their showers were powerful enough to clean an elephant!
Here is a photo of the bathroom – Look – no mould!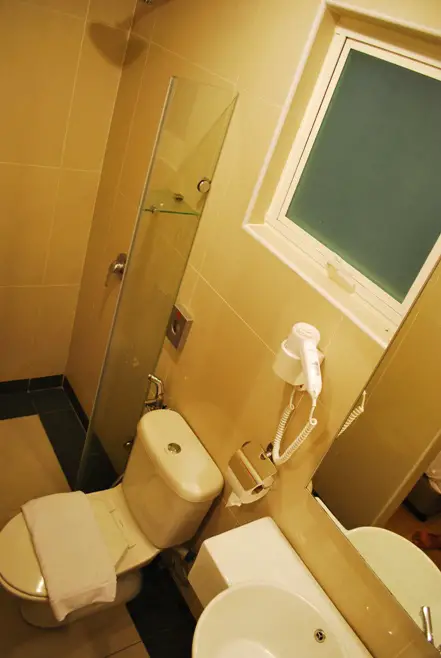 So what's the verdict?
For me, Tune Hotels are excellent value for money (especially one located walking distance from the airport).  Their hotels are modern, comfortable and clean.  They even use King Coil beds, which some of the more expensive hotel chains use.
In comparison, I've paid truckloads more for a lumpy dorm bed in a dingy backpacker's where there was cigarette stained carpets resembling a leopard skin, accompanied by scurrying cockroaches.  And this was with communal bathrooms with trickle-showers that were a breeding ground for unidentified bacteria that would have scared off any agar plate.
If you wanted to stay at the Kuala Lumpur airport Tune Hotel, I'd suggest booking in advance to make sure you can get a room.  Understandably, they're often booked out, which says something in itself.  You can even pay for a refresher deal for a few hours if you want to chill out before your next flight.
There are other Tune Hotels located in other cities, such as Penang, Bali (Indonesia) and Kuching (Malaysian Borneo), with grand plans to open a lot more in the next few years.
Tune Hotels is an offshoot of the Air Asia group. Tune Hotels are popping up all over the place – understandably, where Air Asia flies.
You can also follow Tune Hotels on Twitter.
By the way, the Tune Hotels Twitter account is not a bot – it's operated by a real person (Biresh!) who actually interacts with you!
So the bottom line is: if you want a clean, affordable place to crash on your next travels around south-east Asia, Tune Hotels is definitely an option for you.  And I'm not just saying this because the accommodation was provided free of charge to me by Tune Hotels.
You can tell from the photos themselves (ie. they're my photos, not ones from a PR Agency!) that it's a great place to stay.
But don't just take my word for it – stay there for a night or so and find out yourself.  It won't cost you much anyway!
And while you are there, check out Kuala Lumpur with Lonely Planet Kuala Lumpur Regional Guide.
About Anthony The Travel Tart
The Travel Tart writes about the funny, offbeat and weird aspects of world travel today. Travel wasn't meant to be taken too seriously! Check out ways to say hi below or sign up for his silly newsletter!
Other Silly Posts!