Travel Writing, Social Media and Promotions
You would have noticed that as an Australian Travel Blogger and Travel Writer, I don't take myself too seriously – and that my travel writing leans towards the quirky side.
I do a bit of Freelance Travel Writing here and there as well which stops me from selling myself on the street, as well as Social Media Consulting. But hey, it works for me and I really enjoy it!
I've also miraculously appeared in some fairly high profile publications, like these!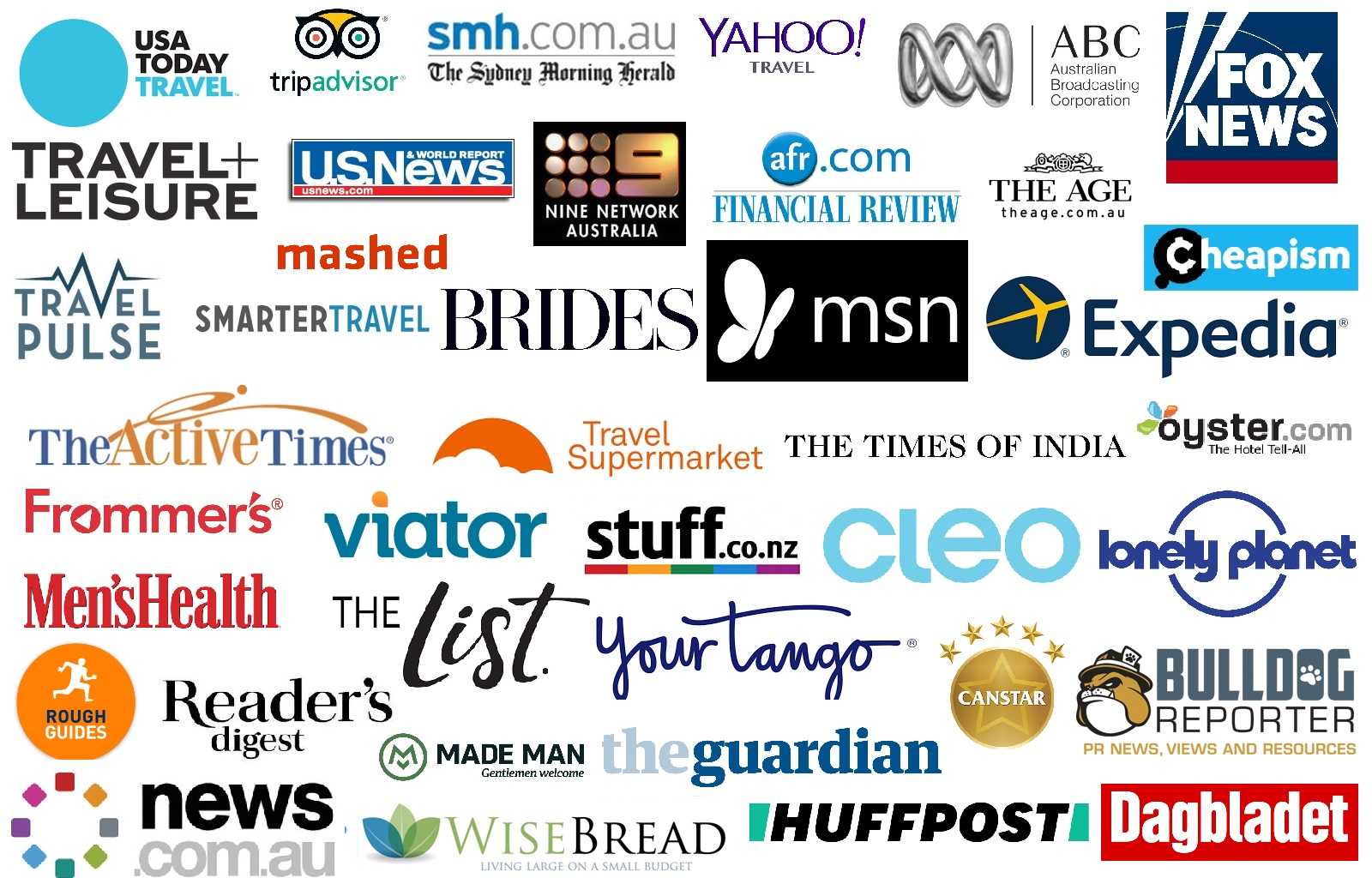 I'm also a member of the Australian Society of Travel Writers! Yes, they let me in!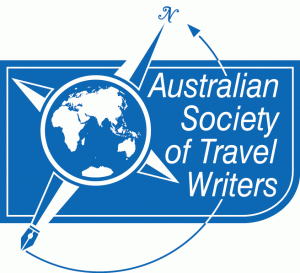 So what can I do for you? Heaps!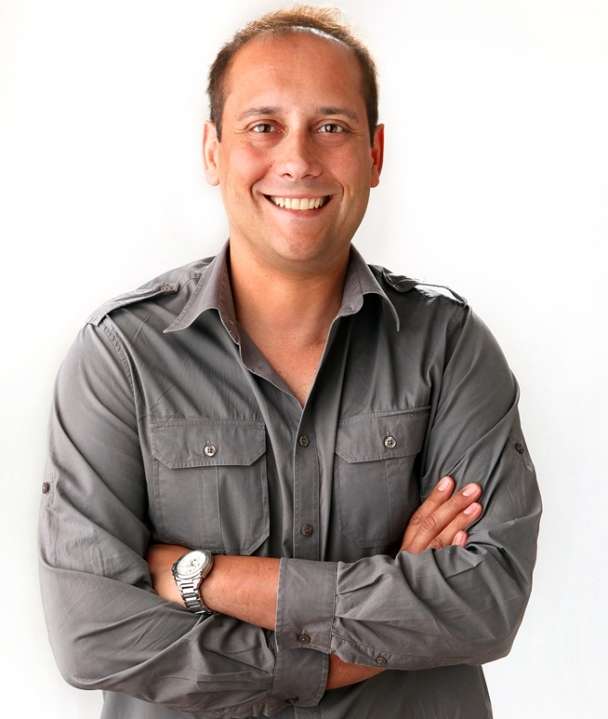 Press Trips, Famils and Promotions
If you're looking to send a travel blogger on a press trip or to cover an event, I've listed some examples below of what I've done previously! I'm available to undertake Travel Writing/Blogging trips to anywhere you want to send me!
I cover pretty much anything – I just find the funny or offbeat aspects of the event, ranging from adventure travel, food, culture etc. I am a Travel Tart after all!
I provide excellent value when compared to other forms of media like newspapers, magazine and television. Why? Here's the proof.
Well first of all, you have a writer, photographer and videographer all in one. I work in the space that everyone uses when they want to find information on travel – that is, online. Traditional media has a limited shelf life. As soon as someone turns the page or finishes watching the TV, the shelf life is gone forever.
We all know that newspaper and magazine circulations have been declining for years and everything is going online. Where is the first place you look for information? It's the internet! And this audience is only going to become bigger once more people become connected.
Being an online type, I live in the space where I can provide exposure for you by creating long term internet traffic and video views that have an indefinite shelf life.
As an example, I've undertaken a week long press trip that resulted in 12 blog posts, 9 videos, 15 social media updates on multiple platforms, and sometimes publication in traditional media outlets.
Compare that with traditional media, which usually only provides one article or feature, and that exposure is gone once the newspaper or magazine is in the bin! The exposure I provide for you lasts for years!
For example, after 5 years, I'm still attracting internet traffic after press trips to Fiji and South Africa – after already attracting tens of thousands of views.
How do I do this? By targeting keywords that people are Googling and constant social media.
Here are numerous examples of Fiji related keywords that bring traffic to my site. I provide what people are looking for!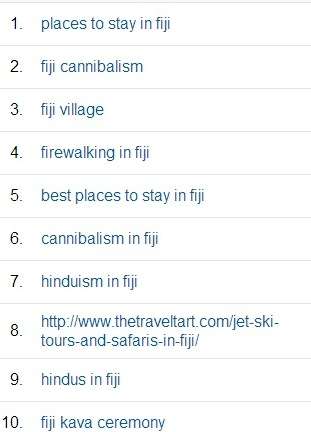 And here is an example where I am still providing exposure on YouTube long after the trip: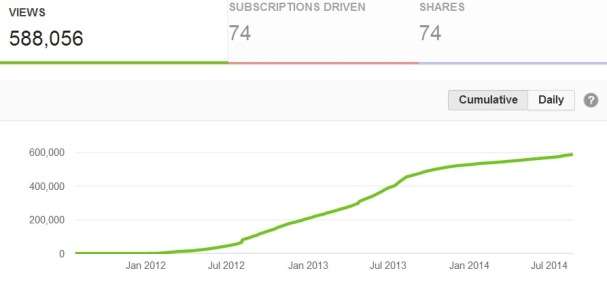 And my YouTube Channel consistently attracts views.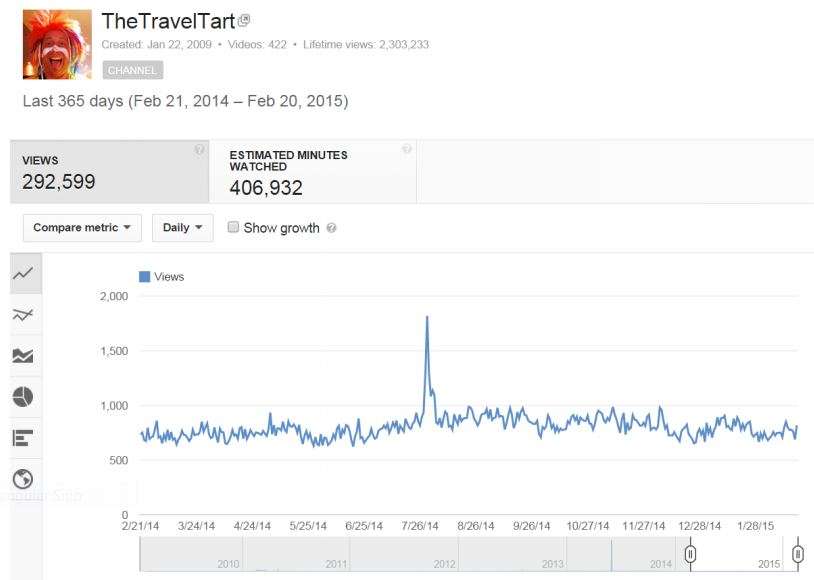 This is in addition to exposure on social media, which I have found to be very effective: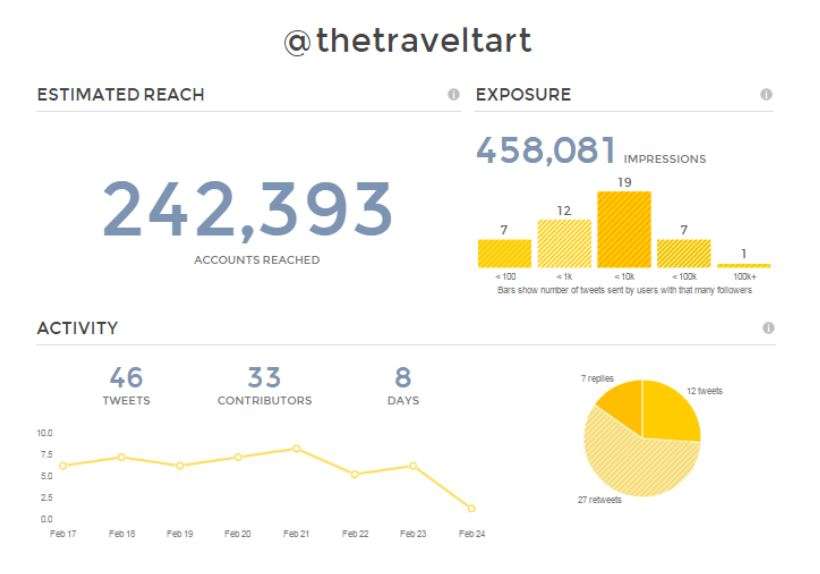 I provide a great service, so please Contact Me for more details!
I see myself as part of your marketing plan – as I'm the one that executes the plan and attracts eyeballs and exposure to your brand!
This is what I will provide for you when I undertake a press trip or promotion as a minimum – I usually produce a lot more because I spot loads of content that doesn't appear on the itinerary:
Agreed number of blog posts and schedule
Agreed number of videos produced and uploaded to YouTube
A report outlining campaign success, analytics and social media reach one month after the last blog post.
Please contact me for more details!
Who I've Worked With!
Here's my track record and the brands I've collaborated with!
Tripadvisor – Tripmaximizer campaign promoting booking experiences – November 2017
FlightNetwork.com – Judge on panel for the World's 50 Best Beaches, November 2017
Solomon Islands Visitors Bureau – Honiara and Western Province Famil, August 2017
Thrifty Car Rental – South Australian Road Trip, November 2016
Calypso Star Charters – Shark Cage Diving and Swimming with the Sea Lions, South Australia – November 2016
Australian PGA Golf/Emirates Promotion – November 2015
Emirates Flights To Bologna – flights giveaway worth over $AUD5500 – September 2015
Maxwell Scott Bags promotion – June 2015
Crooked Compass Travel App promotion – June 2015
Schild Estate Wines Twitter Tasting – May 2015
D'Albora Marinas Promotion – March 2015
Royal Caribbean Cruise Lines – Voyager of the Seas visit to Brisbane, December 2014
Webbem adventure watches promotion – November 2014
Changi Airport – promotion of Changi Recommends Booths at Singapore – October 2014
Europcar – North Queensland Promotion, October 2014
MeGuideU launch in Singapore – June 2014
Uniqlo – launch of Australian stores, June 2014
Bluffworks Travel Pants promotion – June 2014
Corona Extra – Somewhere Else Promotion – May 2014
Hampton Food Festival, Queensland – May 2014
Bimbadgen Wines Twitter Tastings – 2012, 2013, 2014
AAMI Insurance – travel voucher promotion, October 2013
Ultimate Ears (UE) Boom portable travel speaker promotion – October 2013
Emirates – press trip from Brisbane to Auckland return for inaugural Airbus A380 flight, October 2013
South African Tourism Press Trips – Two week long travel press trips to produce travel writing articles, photos and videos.  October 2010 and August 2013
Dubai Tourism/Emirates – press trip to Dubai, October 2012
Samsung WB150F compact camera promotion – August 2012
Rail Europe– press trip through France, Netherlands and Germany, June 2012
Samoa Tourism Authority – Press trip (February/March 2012)
G Adventures – Japan press trip to Tokyo, Kyoto and Osaka during December 2011
Tourism Queensland – Bundaberg Region Press Trip, November 2011, Stanthorpe/Scenic Rim February 2012, Stradbroke Island May 2012, Airlie Beach November 2013
Qantas Airways: The Great Crusade – Official blogger and correspondent for Qantas on a campervan trip around the North Island for New Zealand as part of an ultimate supporters tour for the Australian Rugby Union team, the Wallabies. Involved the writing of articles and production of numerous videos about the trip in September 2011. Also attended the Boeing 787 Dreamliner visit to Brisbane in May 2012. Hooroo.com Travel Ambassador visit to Lord Howe Island, September 2012, and Secret Spots in North Queensland (Undara Lava Tubes and On The Inlet Seafood Restaurant), December 2012.
Dell Computers – promotion of XPS12 and XPS13 Ultrabooks, 2012
Malaysia Kitchen Official Blogger – promoting Malaysian Cuisine within Australia. August/September 2011.
Destination New South Wales – Adventure travelling around the Coffs Harbour area via Twitter, June 2011, Crave Sydney International. Food Festival, October 2011, Australian Open of Surfing, February 2012, Vivid Festival June 2012, Newell Highway November 2o13
Targa Tasmania 2011 – covering the Targa Tasmania Car Rally for Mazda Australia, promoting the Mazda MX5, April 2011
Marry Me Microsoft – Providing travel advice to Competition winner that had national exposure in Australia – December 2010.
Visit Britain Press Trip, England and Wales – 12 day travel blogging trip, September 2010.
Tourism Fiji Press Trip – Week long travel press trip to produce travel writing articles, photos and videos.  March 2010.
Air Asia Pesta Blogging Communities Trip – Travel writing trip in Indonesia sponsored by Air Asia, October 2009.
Pesta Blogger 2008 Blogging Trip – November 2008.  I was one of 5 international guests (and the only one from Australia) who was invited to produce a travel blog about Indonesia by the Indonesian Ministry for Culture (Bali, Jogjakarta, and Jakarta) from November 17-22, 2008.  Pesta Blogger is an annual 'blogging event' that attracted 1500 participants in 2008.
Freelance Travel Writing
I'm available to undertake some freelance travel writing across all travel genres.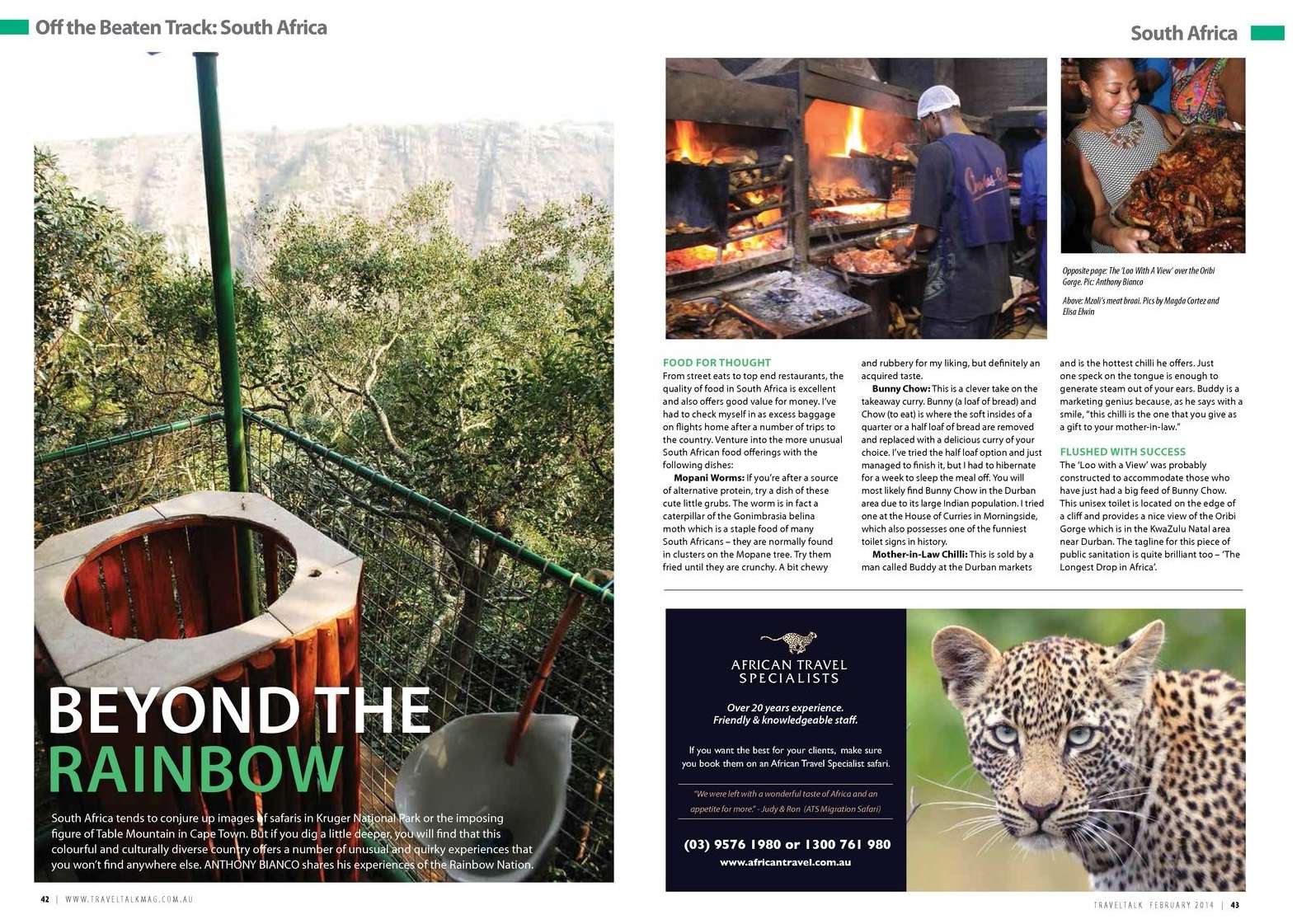 I've also appeared in the following hardcopy and online publications:
ABC Radio
Radio 2UE
Cleo Magazine
Times of India
Men's Health
Huffington Post
Rex Airlines Magazine
Australian Financial Review
The Age
US News
Travel + Leisure
Brisbane Times
Frommer's
Eat This, Not That

Fox News USA
USA Today
Yahoo! Travel
The Guardian UK
Problogger
Digital Photography School
Lonely Planet
TravelTalk Magazine
news.com.au
Sydney Morning Herald
Canberra Times
Travel Supermarket
Rough Guides
Insight Guides
Awards and Recognition
Top 20 Travel Blog, and Winner: Funniest Travel Blog on MyTravelMoney.co.uk – August 2012.
Nominated for a Visit Britain Media Award (Best Online Feature), May 2011.

Travel Memoir: 'I Hope That My God Makes Your Bus Crash and You're The Only One Who Dies!' (Genre: Non Fiction, Travel). Highly Commended, Interactive Press Picks 2010.
Wanderlust Magazine UK 'Weird World' Travel Photography Competition – 'Health Worker' photo, September 2009.
Anyway, please contact me for more information!