Travel And Money – In a Slot Machine!
Travel and Money are inseparable – you need Money to Travel, and without it, Travel becomes a lot like begging. Not much fun at all. I mean, you don't want to be cruising around having fun, and all of a sudden you realise that you don't have a cent to your name any more and you have to resort to having to ring your parents on reverse charge to bail you out.
They might wire over some money to you, or maybe post you a travel card of some sort with some crazy interest rate that will take you years to pay off if you ever feel like scoring a job in the real world!
Hang on, that sounds like the Global Financial Crisis scenario of 2008!
Anyway, at the MGM Grand Casino in Las Vegas, you can combine your passions of Travel And Money in a slot machine! Yes, seriously!
That's right, believe it or not, The Amazing Race Slot Machine exists!
The TV Series (see my previous post about The Amazing Race – If Everyone Travelled Like Their Contestants) has now been immortalised in gambling history!
No joke! Sounds like the first one to blow their money wins! So to speak!
Travel and Money – Las Vegas Style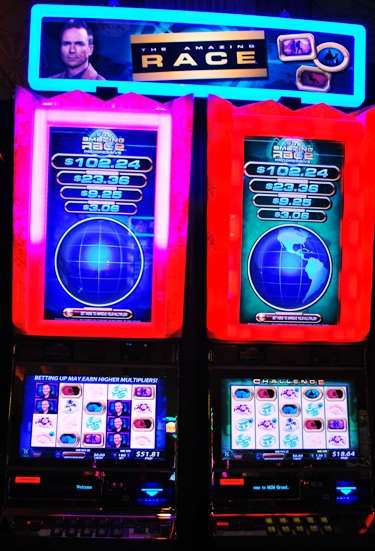 Somehow, I think this Slot Machine would crush most travellers dreams, especially if it swallowed all your hard owned cash because you foolishly thought you could beat the casino odds – which are always skewed towards the casinos favour!
Then you wouldn't be able to Travel or have any Money at all.
Anyway, after blowing your money on The Amazing Race Slot Machine and kissing goodbye your Travel And Money fantasy, you may need to read Travel Writing 2.0: Earning Money From Your Travels in the New Media Landscape to get some of it back!
And no, I didn't waste any of my hard earned money on one of these things!
About Anthony The Travel Tart
The Travel Tart writes about the funny, offbeat and weird aspects of world travel today. Travel wasn't meant to be taken too seriously! Check out ways to say hi below or sign up for his silly newsletter!
Other Silly Posts!