Howdy! I went on a trip to Singapore thanks to MeGuideU, which is a website that aims to connect travellers with local guides so that you can experience the real side of a city or country. You can also follow them on Facebook, Twitter, Pinterest and Instagram.
Anyway, a number of local guides who use MeGuideU took me around the bustling city of Singapore to experience a truckload of things that definitely don't appear in the tourist brochures – so I've decided to compile 10 of these things into a silly list!
Singapore is often viewed as a stopover destination to somewhere else because Changi Airport is one of the best airports in the world (I'd agree with this!). And it's also known as a shopping mecca that will make you part from your hard earned money very easily!
Plus there are a number of huge engineering marvels that you can visit.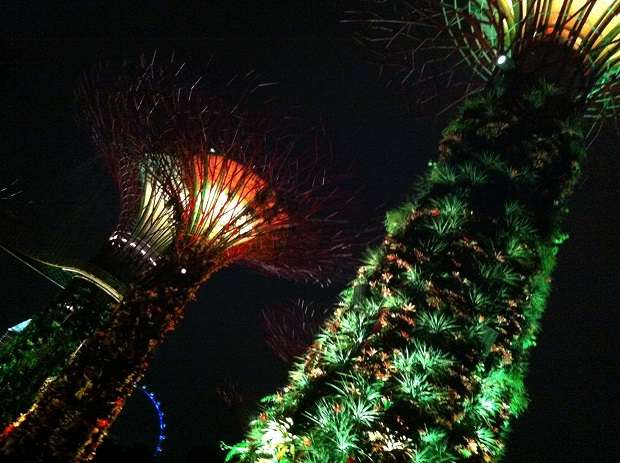 However, if you dig a little deeper, you'll find a lot more underneath the skin of the city that's called the Switzerland of Asia. So I've come up with a list of 10 Weird Things To Do In Singapore that will definitely make you look at this financial powerhouse island in a different way.
And the only reason I know about these weird and unusual Singapore experiences is because I had a local guide show me around! This is stuff you won't find in a guidebook!
10 Weird Things to Do In Singapore
Here we go!
1. Eat Pig Intestines at the Bedok Hawker Food area
If you go to the Fengshan Centre in Bedok, you'll find a mind boggling array of 'Hawker Food' – which is cheap, tasty and great value for money food that covers many Asian cuisines (at around 3 to 6 Singapore dollars a dish). Things like noodles, 'carrot cake' (which is actually made from radish) and other dishes that will have your tastebuds experiencing a flavour overload.
However, if you're feeling a bit adventurous, why not try the pigs intestines – both large and small!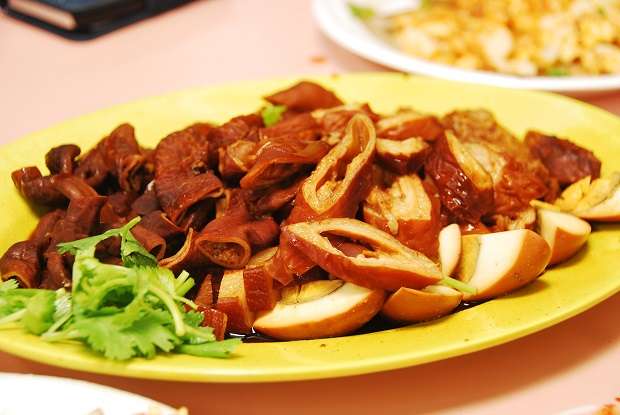 I know it doesn't sound appetising, but they actually taste pretty good – and I don't like offal!
2. Drink Tea and Coffee – literally at the same time!
If you go to the Tiong Bahru area, you'll come across some old Singapore architecture which harks back to the art deco era. But before you do that, you'll need a cup a coffee or tea from the Tiong Bahru market.
But you can have both at the same time! Yes, I did have this unusual mix which is called 'Yin and Yang' where you can drink this concoction of half tea and half coffee.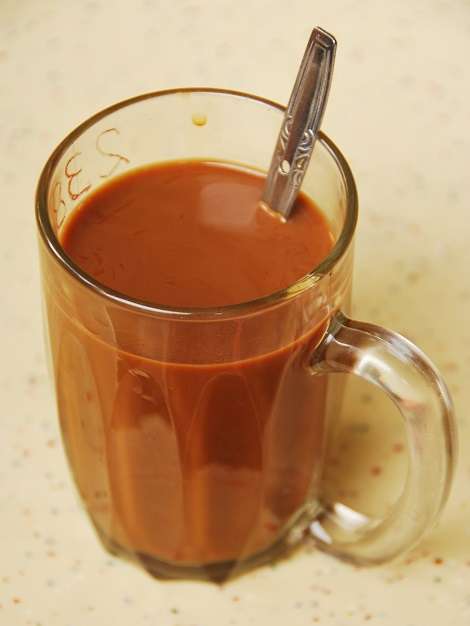 It sounds really unusual, but tastes great. First you score the hit of tea on your tongue, and then comes the coffee aftertaste. Great for people who like both tea and coffee!
3. Burn the things you need now for the next life
I came across a fascinating insight into Chinese culture in Singapore Chinatown. People burn paper imitations of all sorts of objects for their recently deceased relatives so that they can have them in the next life. You can burn almost anything, like fake vitamins (see below), make up, clothes, and even money!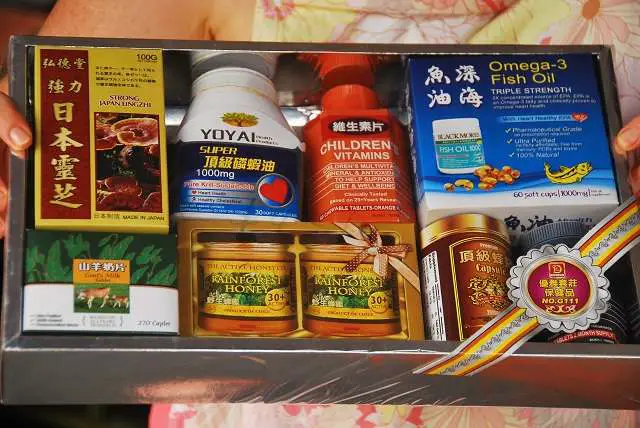 I even spotted a billion dollar note that you can burn for your relatives (or even yourself if you're keen) so that the person can be rich in the next life. Hey, it can't hurt!
4. Request the most bizarre cocktail you can think of.
Hidden away from the main tourists spots is the Bitters and Love bespoke cocktail bar, where you can pretty much order any cocktail that you want. Cocktails can be made from gin, rum, whiskey and other drinks and you can specify if you want something fruity, sour, sweet or even a 'surprise me'.
Because I like trying weird stuff all the time, I naturally gravitated towards the 'surprise me' option below.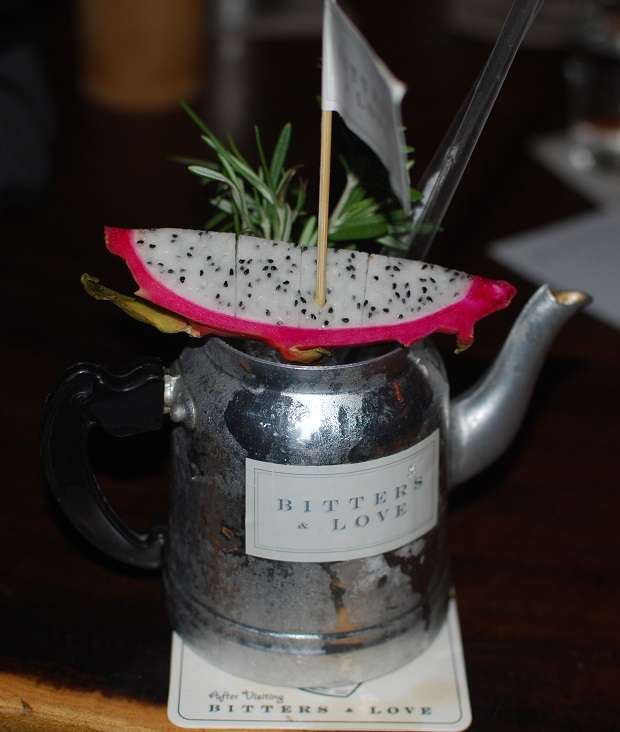 This cocktail is a Cuban white rum mixed with Dragon Fruit, rosemary and lemongrass. Sounds weird, but tastes sensational!
5. Go Fishing with a fishing rod.. for prawns and then cook them immediately after you catch them!
This is definitely a strange night out, but worth doing. And it's open 24 hours a day!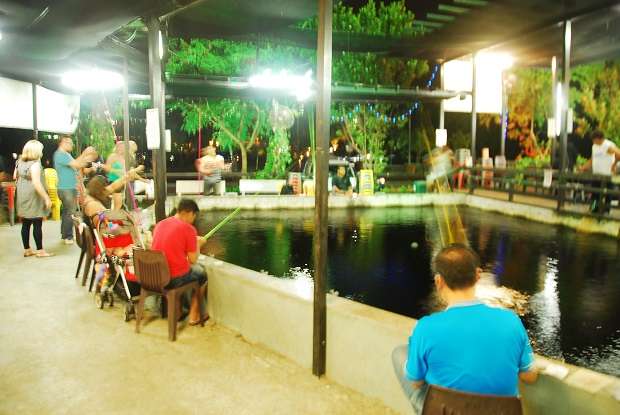 At Big Splash on the eastern side of Singapore, you can rent out a line and go prawn fishing to catch a feed! You can them immediately cook your caught crustaceans afterwards on a barbecue that's provided right next to the prawn pond, so this is pretty fresh seafood me thinks!
6. Buy some Traditional Chinese Medicine
Probably not one for the squeamish, but if you have some sort of ailment, venture into Chinatown and see what concoction can be brewed up to treat it! Note, that it won't be from these actual preserved creatures, but will probably be a powdered form of it!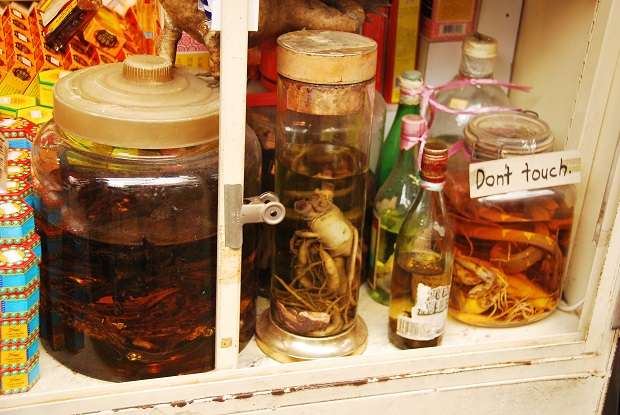 However, I'm not sure what ailment these stretched out lizards would treat. If you have any insight, let me know!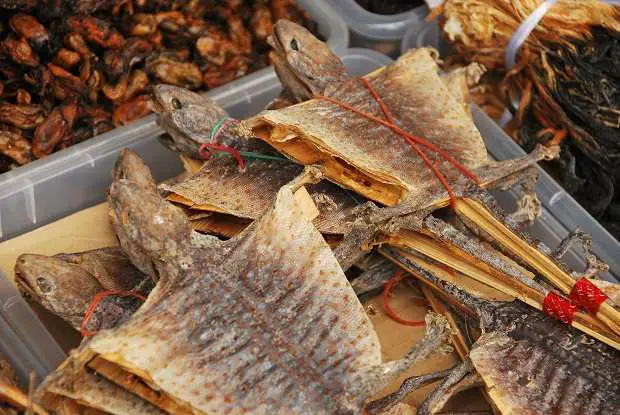 7. Eat some phallic seafood
If you like your seafood, the Seafood International restaurant has some superb seafood to chow down on.  You might have to book in advance to experience this, as it was packed on the night I went. They have a motto 'if it swims, we have it'.
And just to prove this, here is an unusual form of seafood that I've never seen in my life.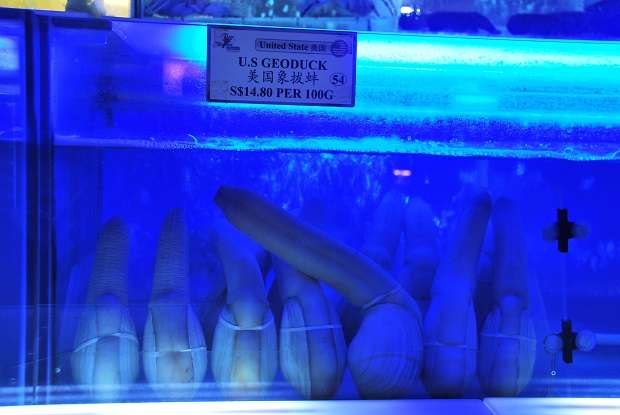 If this is a bit much for you, try the crab curry or the sakura prawns. You'll be looking to eat the whole bain marie Homer Simpson style!
8. Eat Fish Head Curry
In Little India, the Banana Leaf Apolo has a strange signature dish – the Fish Head Curry.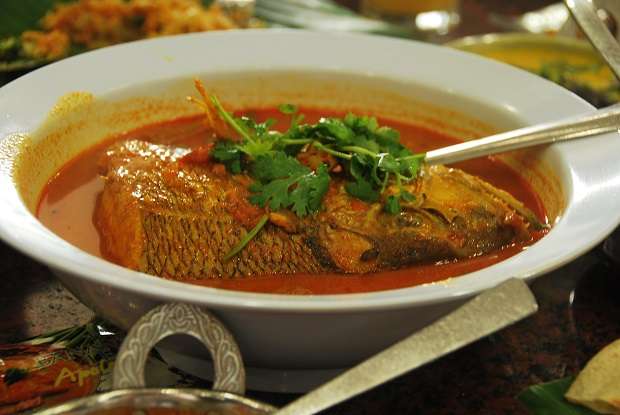 Pick away at the fish head and you'll feel it melt in your mouth, accompanied with a flavoursome hit of spices. Yummo
9. Meet Anthony Hopkins
He's not be scary like the Silence of The Lambs movie, but his name is actually Anthony Hopkins and he's involved with Bollywood Veggies which is an organic farm located in the northern part of Singapore.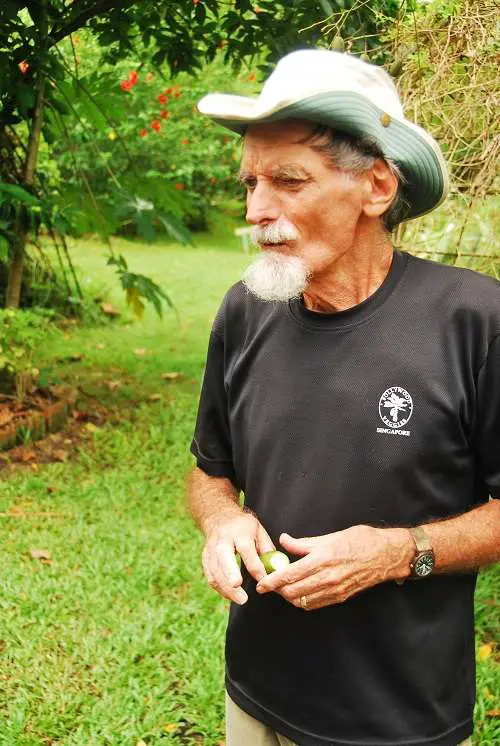 Bollywood Veggies was a surprise package for me as I wasn't quite expecting to see a farm like this in the mass urbanisation of Singapore. His botanical skills are much better than Christopher McCandless who was featured in the great travel movie 'Into The Wild' because we ate all sorts of vegetation without dying from poisoning!
In fact, Anthony will take you around and show you some unusual tropical fruit and plants. It's out of the way, but worth a look!
10. Play minigolf around all of Singapore's Landmarks!
LilliPutt is an unusual indoor mini golf set up that is like telling an engineer to go wild and think of all sorts of mechanical contraptions to transport your golf ball around specially constructed mini versions of Singapore icons in 18 holes (for example, Changi airport as shown below). It's actually good fun if you can manage to land the ball within the hole below par – which means I don't think I'll be threatening Tiger Woods anytime soon!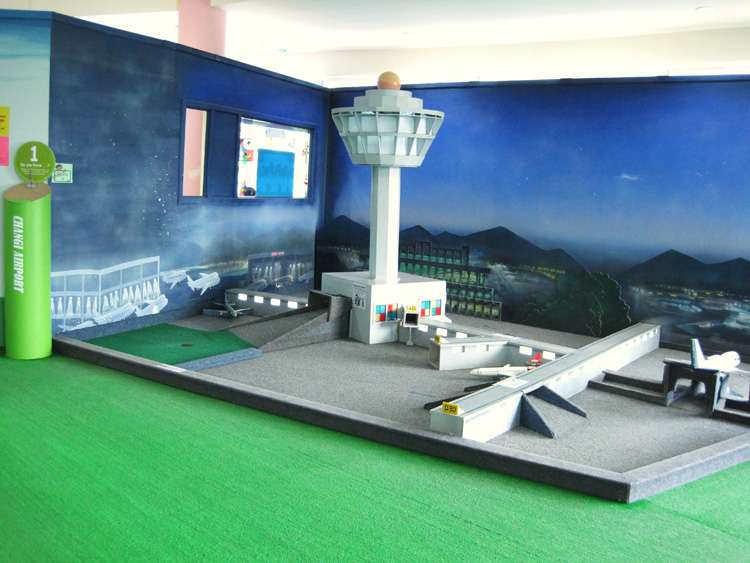 Anyway, there you go – some weird and offbeat things to do in Singapore! It's not just about shopping! I'll go into detail with these in other silly articles later because there are some in depth things behind this summary!
Thanks to MeGuideU you for providing these crazy experiences!
About Anthony The Travel Tart
The Travel Tart writes about the funny, offbeat and weird aspects of world travel today. Travel wasn't meant to be taken too seriously! Check out ways to say hi below or sign up for his silly newsletter!
Other Silly Posts!