The Worst Theme Parks in the World. Been to Any Of Them?
Today, I've got a gust post from Joe Johnson about some of the Worst Theme Parks In The World, or the dodgey theme parks you may choose to visit throughout the world. You can follow Joe on Twitter @joe__johnson__
Here it is!
Theme Parks that make you think WTF!
Theme Parks embody all of our childhood fantasies and desires; magical, other worldly realms, lurid imagery, and of course thrilling rides… At least they're supposed to. Disney World Florida is the most famous collection of theme parks in the world and while the fabricated facades and saccharine sweet atmosphere of the Magic Kingdom and Epcot may be the worst nightmare of miserly, closed-minded adults, there is no denying that the Park does a stunning job of creating and 'world within a world', a town-sized area comprising of multiple parks all with distinct personalities, all enchanting in their own right.
Disney may be the king of theme parks, but the concept is well executed elsewhere. In the UK, Chessington World of Adventures and Thorpe Park may not have the same character as Disney World but they certainly deliver in terms of satisfying thrill seekers who flock in their drones to be propelled skywards at gut wrenching speeds. Not all theme parks get it right however, and far from suspending disbelief, some simply leave their guests suspended upside down after their rollercoaster grinds to a halt.
There is a fine line between creating an exciting, enchanting, safe park and inadvertently manufacturing an empty, soulless collection is disconnected attractions. Here are some of the worst examples of theme parks in the world…
Mangyongdae Fun Fair, North Korea
'Communism' and 'Theme Park' are two words not often found in the same sentence, and the Mangyondae fun fair is reason enough why. Set against stained concrete and unkempt greenery, the 'fun fair' has all the favourites, a roller coaster, Ferris wheel, and a merry-go-round.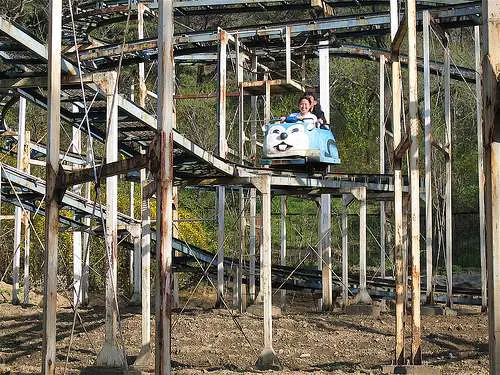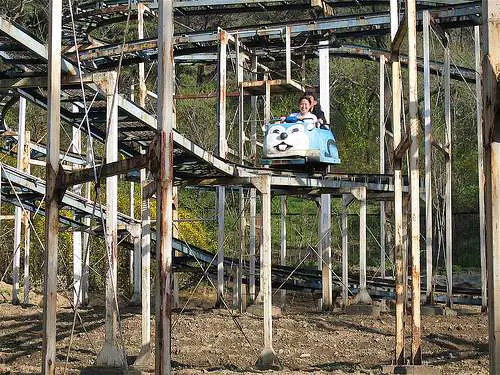 The concept is sound then, but the execution, abysmal. The rusty, decaying rides scream utilitarianism, the 'zoo' contains one peacock, the fairground type attractions consist of a shoddily-erected stool, with tin cans sitting atop a wooden table (visitors are supposed to throw balls at this).
It is hardly surprising that the park was in all likelihood, built as propaganda exercise by Kim Jong-Il in an attempt to convince outsiders that North-Koreans have plenty of fun, amid all the subordination and oppression of course.
Ferrari World, UAE
Ferrari are an ambitious, prestigious brand, perhaps not the best values to base a theme park around, since most people turn up to eat candy floss and then get thrown around until they regurgitate said pink, filly pseudo-food, but keen reflect it's new found wealth and attract tourism Abu Dhabi decided to build Ferrari World.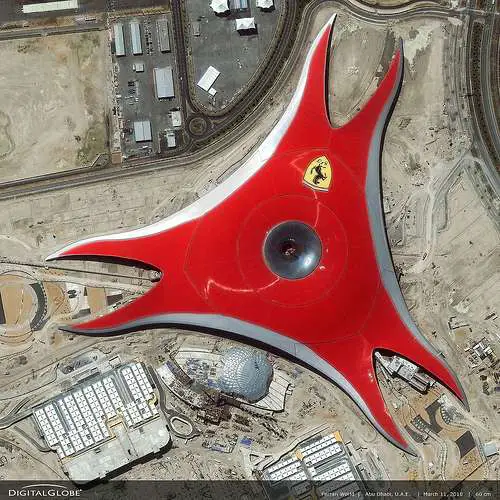 It's a wonder how such a historic and sought-after car manufacturer sanctioned such a damp squib of an attraction and poor representation of its brand. Ferrari world consists of a roller coaster, the 'Formula Rossa', that is by all reports, tame, and various trumpet-blowing movies about the history of Ferrari.
One thing that seemingly does match the values of the brand are the prices. The exorbitant food and gift shop rates are enough to give you a sense of what it's like to own a Ferrari, even if the rollercoaster isn't.
Shijingshan Amusement Park, China
One of the things that makes a theme park so magical is being totally unique, a one-off, once in a lifetime experience that can only be found in certain corner of the globe. That's why Shijingshan's blatant and shameless imitation of Walt Disney World undermines its appeal.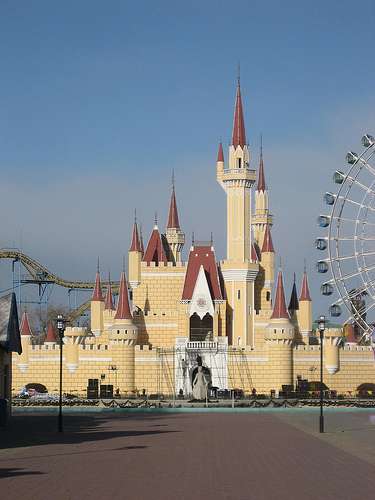 The magic of Disney is by no means confined to Florida, there are other official Disney Parks in Paris and Tokyo; Shijingshan however is not, and it shows. The roaming characters are still present, but the proportions are just wrong, and a malformed Mickey is worse than no Mickey at all.
Mixed in with the menagerie of plagiarised Disney characters are various other cartoon stars including Batman and Scooby Doo, creating a curious mish-mash freak-show here anything goes. Disney sued in 2007 and the Shijingshan site was taken down.
Fantazyland, Egypt
Theme parks are always better when they are abuzz with life and the majority of the rides are working, kinda adds to that 'enchanting' illusion. Fantazyland in Alexandria falls at the first hurdle then, looking like some sort of deserted ghost town littered with defunct fairground rides.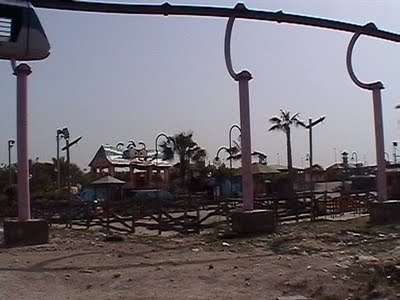 One recent visitor reported that the park was empty, the lazy river had been used as a refuse tip, walls were covered in graffiti (not in an ironic way) and the foliage was unkempt. The only Fantazy guest will experience here is dreams of getting out!
Bon-Bon Land, Denmark
Bon-Bons are a type of Danish sweet, which is odd so you'd assume that a theme park based on them would be full of sugar and spice, and indeed, all things nice. Not Bon-Bon Land. The Danes like to defy convention, instead creating a park full of plastic dog faeces and vomiting rats.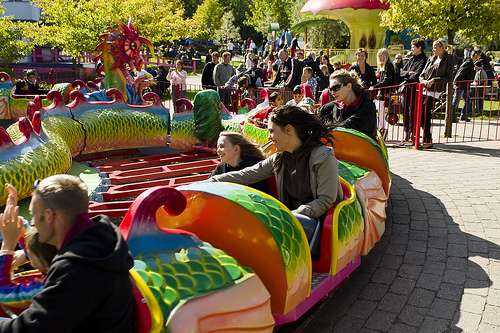 Bon-Bon Land is not short of funding with over 60 attractions including a 4D cinema, and although it lives up to it's theme park title by being, well, themed; the subject of said theme is a curious one for an attraction aimed primarily at kids.
All the rides as well as the scenery are based on animals, but not cutesy, Disney-style animals, more like randy pigs, buxom cows, hung-over turtles, and ants that like to urinate in public. The rides are no better. Bon-Bon land isn't bad, just downright odd.
More Worst Theme Park Stuff
Joe is a travel blogger who loves theme parks, but will probably give these five a wide birth. He's looking forward to his Mexico Holidays later this year, which will probably be Theme Park free!
Maybe this list appeared in 101 Places Not to See Before You Die!
Other Silly Posts!