Swimming With Turtles Time!
For the very first time, I've had a face off with a Sea Turtle! It happened on the island of Savai'i in Samoa, where you can literally go Swimming With Turtles.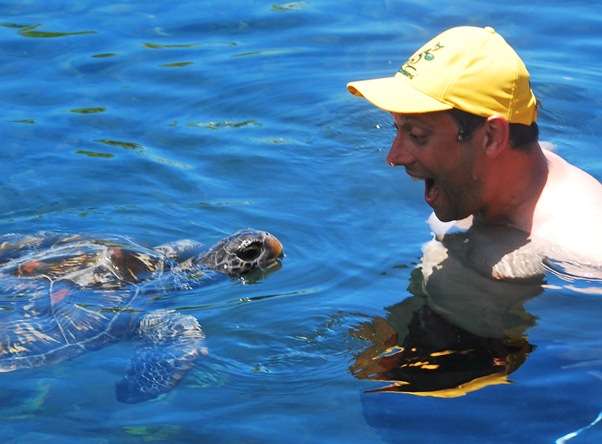 The story about this place, is that this is one of two turtle sanctuaries in Samoa that looks after turtles that have been accidentally caught in nets by fishing boats. What happens is that fisherman bring them into the sanctuary for them to be rehabilitated, and be re-released into the wild.
For a small fee, you can rock up to Swim With The Turtles and have a bit of fun feeding them. And the turtles are a friendly lot, like the Samoan locals – it's like swimming with a pet dog, not with a wild sea going reptile!
However, I was completely surprised at how understated this place is. It costs only 5 Samoan tala (would you believe, 2 US dollars!) to visit this place and hop into the water and swim with a heap of Sea Turtles. And that includes being supplied with papaya to feed them! If this place occurred in the west, it would cost at least a hundred bucks, and there would be all sorts of anal public liability issues that would probably kill off the idea in the first place because the lawyers have taken the fun out of everything!
Obviously, Samoan Sea Turtles don't face the same threat as those in Nicaragua, which require an armed guard to fend off poachers. They are pretty happy to swim around and check out the strange human beings that want to go swimming with them.
Like so!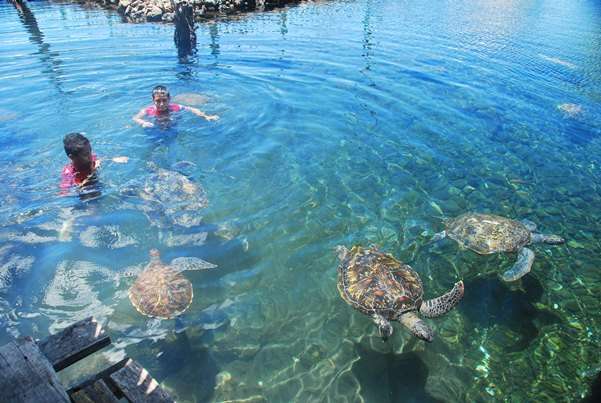 Swimming With Turtles Video
Anyway, I took some video footage to show off the experience – check it out. If you're ever in Savai'i, it's worth checking out as you'll never forget this experience!
More Swimming With Turtles Stuff
See more at the Samoa Tourism Authority website.  And maybe see Sea Turtles: A Complete Guide to Their Biology, Behavior, and Conservation.
About Anthony The Travel Tart
The Travel Tart writes about the funny, offbeat and weird aspects of world travel today. Travel wasn't meant to be taken too seriously! Check out ways to say hi below or sign up for his silly newsletter!
Other Silly Posts!