Sleeping On The Bus – Catching Flies
Today's Funny Travel Photo comes from Caz and Craig from YTravelBlog and is about Sleeping On The Bus.
Oh the joys of bus travel!   I have taken many double digit hour bus rides in my time, and boy, they can be pretty taxing. Bus Travel isn't exactly my favourite mode of transport sometimes, but often it's the only choice in some places. Actually, the buses in Argentina I have been on are the best ones in the world. For not much more, you can buy business type class seats that fully retract, and they are the only buses I have ever been able to sleep on in my life. They even serve wine and meals on the bus, and you can even play bingo where you can practice your numbers in Spanish!
Anyway, it looks like that Craig doesn't have the same problem of sleeping on the bus like I do. Judging from his mouth, it seems like Craig was pretty much over travelling at this point in time when this photo was taken!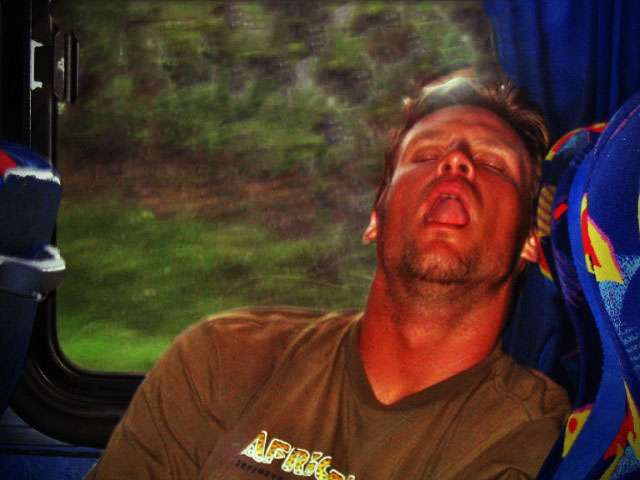 Craig obviously didn't want to send this photo, but his wife Caz thought it was worth having some cheap laughs at his expense to be plastered all over the internet!
Caz says 'this is Craig catching flies on a long bus journey in South Africa'.
Craig must have been sleeping off a few beers or something like that. We shared a campervan in New Zealand for a week as part of The Great Crusade.
I'm glad he didn't fall asleep at the wheel when he was driving! We would have both ended up in some random sheep paddock!
More Sleeping On The Bus Stuff
If you are after some funny tales of bus travel, check out Brian Thacker's Rule No. 5: No Sex on the Bus: Confessions of a Tour Leader. This book may make you think twice about travelling on a bus tour!
About Anthony The Travel Tart
The Travel Tart writes about the funny, offbeat and weird aspects of world travel today. Travel wasn't meant to be taken too seriously! Check out ways to say hi below or sign up for his silly newsletter!
Other Silly Posts!