Shoe Fence = Free Footwear!
If you're ever driving south of Dunedin towards Invercargill on the south island of New Zealand, you might come across this strange tourist attraction – the Shoe Fence.
This is a massive collection of footwear that has been tied up to a wire fence that stops tourist in their tracks because they want to pull off the main highway to check out this bizarre shoe construction to take heaps of photos and pictures for shoes that have probably seen better days.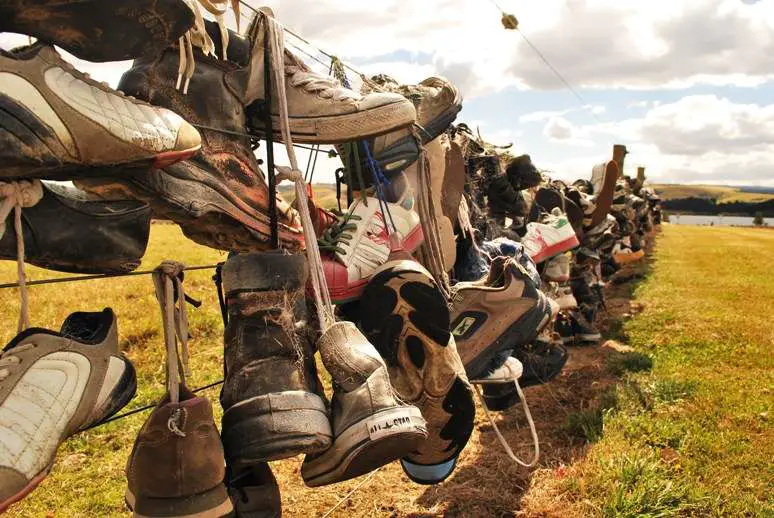 At first, I thought this was the fence where Imelda Marcos (wife of former Filipino President Ferdinand Marcos, see more here) sent her extensive shoe collection once she had worn them only once.
But it's actually locals and passer byes that leave their old shoes in what I probably call shoe heaven – where shoes in New Zealand go to die!
But It's A Shoe Fence with a Zap!
You have to be careful – note that there is an electric fence wire running just above the Shoe Fence (see above photo).  So if you're trying to place a worn out pair of Dunlop Volleys on there, you might receive a large-ish zap if you don't know what you are doing.
But apparently, bizarre fence collections like this are not uncommon in New Zealand.
There is a bra fence at a town called Middlemarch which is not that far away, and who knows what else.
Feel free to add your 2 bob worth if you know of any other bizarre fence collections that might be floating around the world!
So if you're after a shoe bargain, this is the fence to visit.  Here is a panoramic shot of what I call, 'THE IMELDA MARCOS FENCE'. 🙂

Somehow, I don't think they followed instructions from The Fence Bible: How to plan, install, and build fences and gates to meet every home style and property need, no matter what size your yard.!
About Anthony The Travel Tart
The Travel Tart writes about the funny, offbeat and weird aspects of world travel today. Travel wasn't meant to be taken too seriously! Check out ways to say hi below or sign up for his silly newsletter!
Other Silly Posts!