Pulah Weh – A Hidden Gem!
Pulau Weh is an island off the coast of Banda Aceh.  It's probably one of the best little bays I have ever visited.
This post is definitely for those of you who are trapped in the office (or your fluorescent prison)!
Have a look at what was my office today: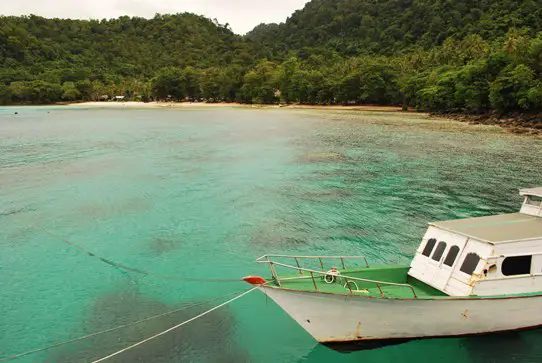 Yes, it was pretty hard to take.
If your main passions are snorkelling and diving, then Pulau Weh is definitely for you. The main snorkelling and diving beachs at Pulau Weh are at Gapang and Iboih.
To get there, you have to catch a ride to the Uleh-leh port from Banda Aceh city.  The fast ferry takes about 45 minutes to get to Pulau Weh and leaves twice a day.  When you get to Pulau Weh, you have to catch a bemo (minibus) to Gapang or Iboih which is about 40 minutes away via a pictueresque, hilly drive through a number of rustic villages.
Basically, you can turn up to either Gapang or Iboih, see which bungalows you like, and stay there for a while – from about 50000 Indonesian Rupiah, or about $USD7-8 per night.
Pulau Weh Pictures
An example of one of these bungalows is shown below.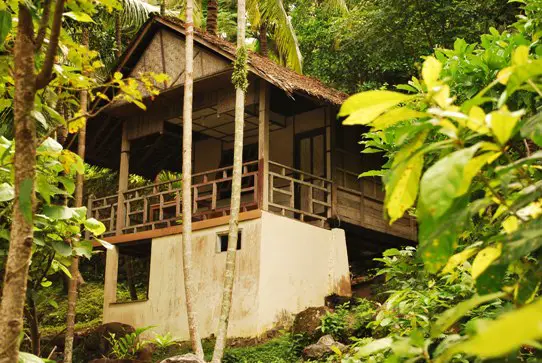 There are loads of coral reefs that are an easy swimming distance from the shore.  If you are into diving, there are PADI dive operators that can take you to places further out to explore other dive spots.  I took this shot of a boatload of people about to be transported to coral reefs further out from Gapang.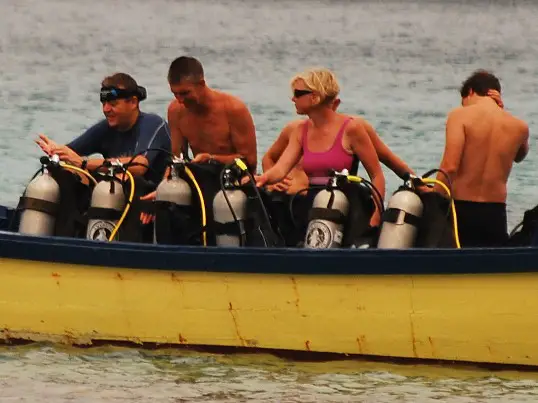 Otherwise, if you don't feel like snorkelling or diving in the Indian Ocean, for a change, you can do sod all and sit in one of the few, laid back beachside cafes that serve up reasonably priced, and quite tasty food.
There's no beer here.  So if you want to detox as well, Pulau Weh is also great for that.
Imagine copping this sight every day for a week at lunch, breakfast, and dinner.  Terrible, isn't it?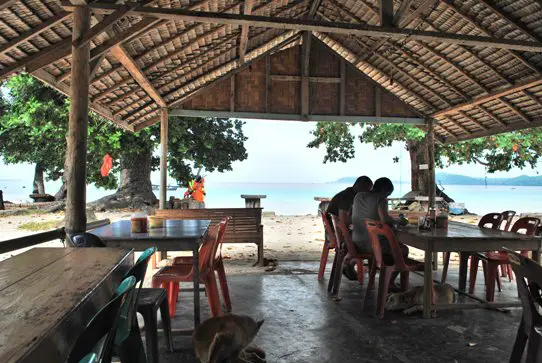 What I like best about Pulau Weh is that it is not geared for tourism at all.
You don't get hassled by anyone to buy anything, and like everywhere else I've been to in Aceh, the people are always smiling and say hello.  People just go about their business on Pulau Weh, and you are invited to take part, or just do your own thing.
It's so laid back, you may never want to set foot into an office ever again!
Kids play happily on the beach on their swings, and say hello when you walk past.  These two little tigers were happy to pose for me – and they were really polite!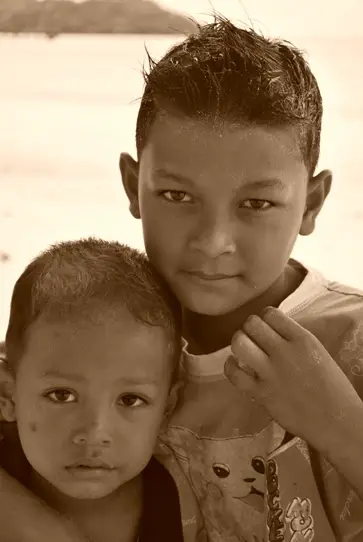 People fish off the nearby jetty and throw their lines in, hoping for a bite from one of the many fish swimming past.  Just be careful not to swim too close to the jetty, or you might be the largest fish this guy has ever landed!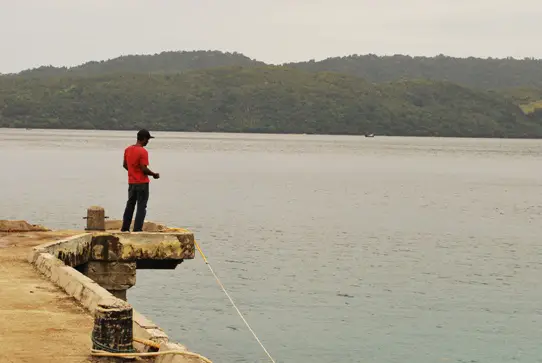 So if your office is feeling just a tad stale, I highly recommend going to Pulau Weh to chill out for a while!
More Pulau Weh Stuff
Also check out Diving Indonesia: A Guide to the World's Greatest Diving.
Air Asia flies regularly to Banda Aceh from Kuala Lumpur.  Make sure you obtain your Indonesian visa before going, because there are no 'Visa On Arrival' facilities at Banda Aceh Airport.  Otherwise, the friendly staff at Air Asia will not let you on the plane!
About Anthony The Travel Tart
The Travel Tart writes about the funny, offbeat and weird aspects of world travel today. Travel wasn't meant to be taken too seriously! Check out ways to say hi below or sign up for his silly newsletter!
Other Silly Posts!