Paris Hilton Full Frontal – The Hotel! Not the Crappy Video!
This is what a Full Frontal of the Paris Hilton Hotel is! If you've come here for the crappy sex tape video – well, sorry! I've got better things to write about than someone who is famous for doing nothing! If you're right into your really bad Hollywood Gossip, you'll have to settle for Six Degrees of Paris Hilton: Inside the Sex Tapes, Scandals, and Shakedowns of the New Hollywood.
What an awesome title, I'm going out to buy it right now! Actually, one of the funniest send ups about this socialite who seems to make the front pages of all of those mindless gossip magazines were the guys from South Park, who named the episode with this hilarious name – Stupid Spoiled Whore! Now that's pure gold!
Oh well, sorry about that necessary diversion. But while you are here on this website, you'll have to get off on this Paris Hilton Full Frontal Photo….
Wow, this one is really hot! Not!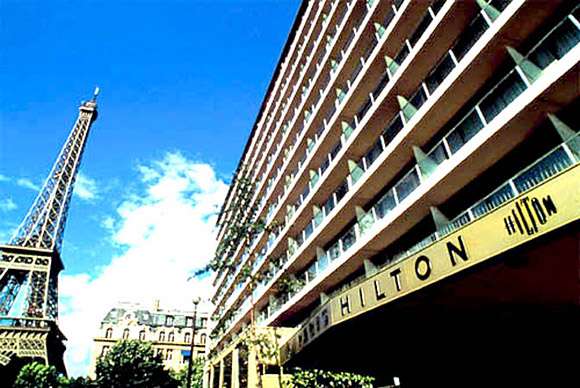 Ha ha, this isn't exactly what you were thinking when you Googled this! Someone sent me this pic in an email so I thought it was worth sharing with the world!
Paris Hilton – Things to Do
If you manage to have 'One Night In the Paris Hilton'….Hotel…., you may be able to drink a bottle of Pschitt Lemonade to wash down some nice French food, or watch some of the funniest moments in Le Tour De France from the comfort of your very, very expensive room! The French capital is one of the most expensive cities in the world, but it's worth going there to walk up the Eiffel Tower and pig out on some of the really nice pastries there!
More Paris Hilton Crap
If for some silly reason you like Celebrity Gossip, check out Confessions of an Heiress: A Tongue-in-Chic Peek Behind the Pose.
Anyway, that's enough Paris Hilton jokes for one day!
See more at my crazy list of French Swear Words, expressions and expletives here!
About Anthony The Travel Tart
The Travel Tart writes about the funny, offbeat and weird aspects of world travel today. Travel wasn't meant to be taken too seriously! Check out ways to say hi below or sign up for his silly newsletter!
Other Silly Posts!