Panty Shower – Funny Product of the Week!
Today's Funny Travel Photo is from Jeff Jung from Career Break Secrets, and it's a ripper! I was in tears on the floor pissing myself laughing after I first set my eyes on this picture. It's of the Panty Shower! Yes, I did a double take when I first said this out loud!
What the hell! This sounds like the most bizarre product name in the history of the universe. Not only just that, it sounds like a really strange application for this odd product nomenclature.
Anyway, Jeff says – 'I was in the grocery store in Bogota (Colombia) this week and saw this. Couldn't resist getting a shot for you.'
Thanks for sending this in Jeff, I think you've made my entire decade!
The Panty Shower Pic!
Here it is! Have a good laugh! I sure as hell did!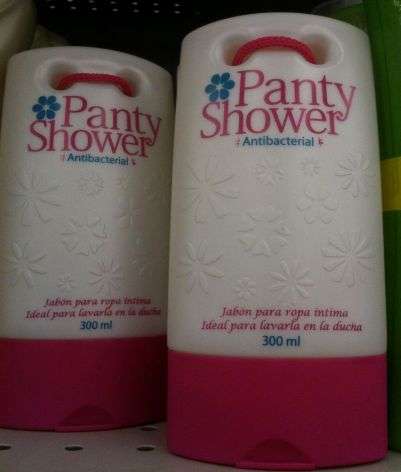 Anyway, the caption (which is written in Spanish) reads "Soap for underwear. Ideal for washing it in the shower."
I had no idea there was such a product such as Panty Shower out there – or that a market existed! I thought most people would just chuck their underwear in with all of the other washing – or am I missing something here?
Just wondering, is there anyone out there that has ever used this stuff? If so, leave a comment below and let me know if it works, or if it has any other applications! I'm sure the entire world is dying to know, because I am!
Actually, just thinking about it – Panty Shower might be a really good travel product for filthy backpackers who are not located anywhere near a washing machine for a few weeks. This could be the world's best kept secret for travellers who can only wash their clothes in the shower!
Panty Shower is almost as funny as the World's Largest Underpants!
Anyway, enjoy the Panty Shower photo!
About Anthony The Travel Tart
The Travel Tart writes about the funny, offbeat and weird aspects of world travel today. Travel wasn't meant to be taken too seriously! Check out ways to say hi below or sign up for his silly newsletter!
Other Silly Posts!