Overland Truck Funnies
When in Africa, many travellers use an Overland Truck to get from Point A to Point B.  There are well defined routes throughout eastern and southwestern Africa that are becoming ever more popular.
Overland Trucks visit Africa icons such as the Serengeti (Tanzania), Victoria Falls (Zambia/Zimbabwe) and the Okavango Delta (Botswana).
Basically, there are only a couple of options for transport in Africa. Firstly, you could hire or buy a car (or I'd recommend a 4 wheel drive because the roads can be rather crap), but this can be quite expensive.
You could try public transport, which includes the back of miscellaneous goods trucks, but this is usually unreliable and is subject to the laws of 'Africa Time' – which means your transport might leave in four minutes, four hours, four weeks, or possibly four months!
I wrote an earlier piece called 'The Worst Drivers In The World' which highlighted the joys of travelling in suicidal minibus taxis in southern Africa.
You can read more about travelling Africa overland here!
But the Overland Trucks are another alternative – and it's fairly reliable!
Since most people only have a finite time for their holiday, the Overland Truck is a viable option because there is a reasonable chance that you might make your destination and your flight home in time.
Overland Trucks are not especially luxurious – actually they're pretty unpretentious and are designed to get you there in one piece.  They are usually a modified truck that has had a large, metal box welded on the back with a few rows of seats bolted in.  This box also houses the tents, sleeping bags, and backpacks of its occupants. They're solid, but not spectacular.  I've included a photo below: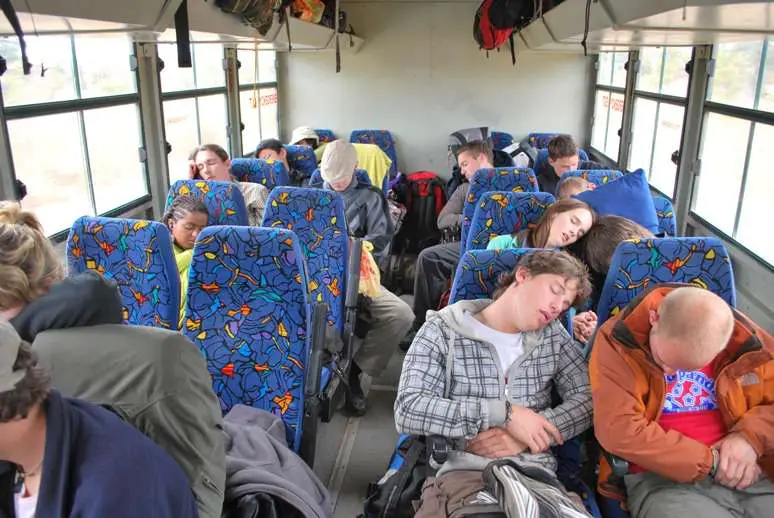 Truck journeys are subject to their own laws, of which I've observed quite a few times on a couple of trips to Africa.
Overland Truck Laws
Here they are – my 10 Laws of Overland Trucks in Africa:
Suspension toughness always takes priority over passenger comfort.

Air-conditioning consists of the Overland Truck travelling at 80 kilometres per hour, with all of the windows open.

There is always at least one Overland Truck romance.  This romance usually ceases at the end of the Overland Truck journey.

Related to the Overland Truck Law above – the original occupants of the Overland Truck tents will drastically change between the start and the end of the trip.

There will always be at least one flat tyre.  This will usually be the inside tyre of a set of dual wheels.  See photo below: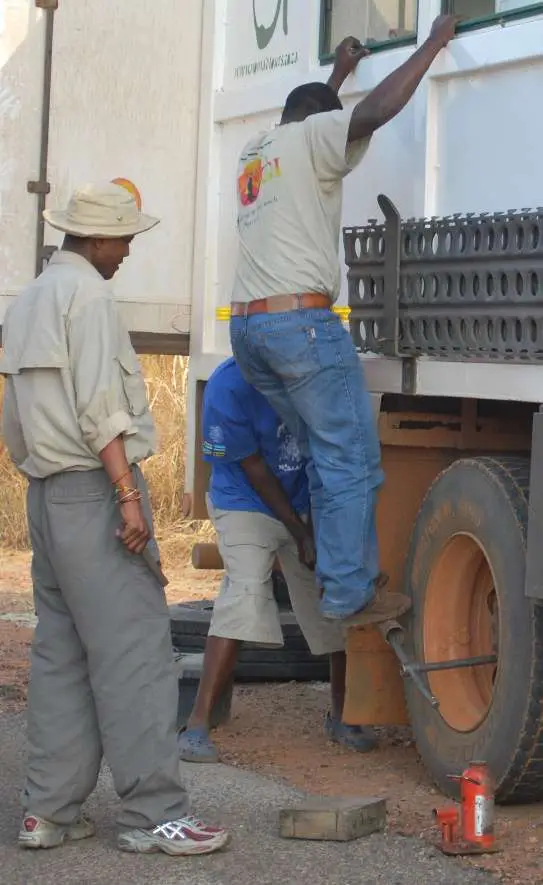 Overland Trucks are trained to find the world's biggest potholes.  See photo below showing evidence of this: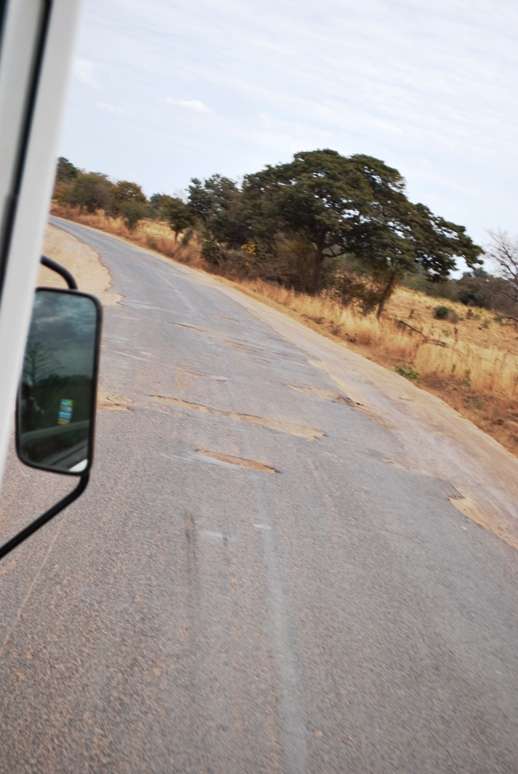 Overland Trucks are a magnet for a wide range of hawkers wanting to sell everything from beads to potato chips.

You will definitely come across at least one of these Travel Personalities. Most likely the Pisshead, the Root Rat, or even a combination of these.

Maintenance tools for the Overland Truck include stones, blocks of wood and kicking with steel cap boots.

You will most likely eat things like Warthog Pie, and drink the Springbok as part of my 52 Travel Tips for Weird Food and Drink.
What about you? What other Overland Truck laws can you think of?
You can read more Overland Truck adventures in this book, titled 'African Adventures on an Overland Truck'.
Leave a comment and share your thoughts!
Other things to do in Africa – visit the 'Sand!' sign or use an Outdoor Toilet.
Other Silly Posts!