Murphy's Laws are Almost Always True!
Whenever I go travelling, it's uncanny how many times I come across some bizarre scenarios for Air Travel that seem to repeat themselves.
I call them Murphy's Laws for Frequent Flyers.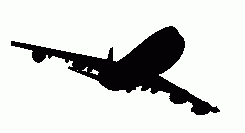 Sometimes they happen to me, sometimes they happen to others!
Here are my Murphy's Laws for Frequent Flyers:
There's no such thing as a bloody Gate Number One at any terminal in the world, not even in the smallest airport that has only one gate;
If you arrive early, your flight will be delayed.  If you arrive late, your flight will depart early;
Turbulence will only occur when eating the filthiest, stickiest airline food/pigswill expressing itself as a Picasso masterpiece on your white shirt;
The hottest woman on the flight is never, ever seated next to you; and
The amount of carry-on luggage space available on an aircraft is inversely proportional to the carry-on luggage idiot passengers bring aboard.
What about you?
More Murphy's Law Stuff
What other Murphy's Laws have you come across when flying?  Share the love and comment!
Check out more at Murphy's Law and Other Reasons Why Things Go Wrong.
About Anthony The Travel Tart
The Travel Tart writes about the funny, offbeat and weird aspects of world travel today. Travel wasn't meant to be taken too seriously! Check out ways to say hi below or sign up for his silly newsletter!
Other Silly Posts!