Motor Scooter Funny Photo
Transport and travel go hand in hand. Whether it is by plane, boat, car, bus, donkey or camel, everyone who has travelled needs to get around somehow. But for others in the third world, this involves a lot of improvisation that one normally doesn't see in the first world. Anyway, check out the photo below. This Motor Scooter and family were spotted on the road from Bogur to Jakarta, in Indonesia, in November 2008.
This road is usually pretty busy, and there are usually traffic jams on the weekend as Bogur is a popular getaway from those who are sick of hanging around in Jakarta.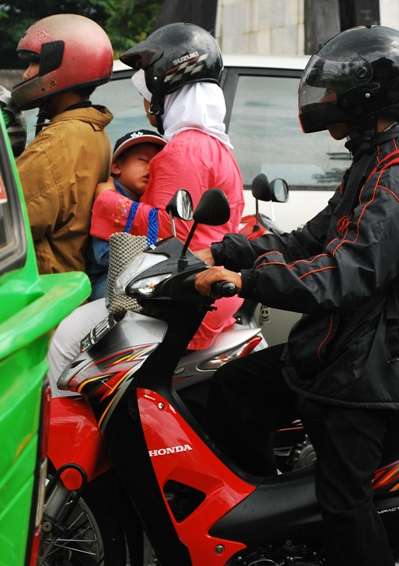 Yes, what you see is what you get. Actually, this is a fairly conservative type of trip as there are only three humans on this Honda Motor Scooter. Sometimes there are entire families and their livestock which greatly exceeds the engineering carrying capacity of the vehicle.
But judging by the photo, this little toddler is very well behaved and has undertaken truckloads of these kind of trips before! If the noisy chaotic traffic is not enough to wake up the little tiger, than nothing will!
One day, he will probably have his own scooter to take his girlfriend, and later, will probably transport his family on it as well!
Motor Scooter Realities in South East Asia
This is a common site throughout Asia – most people cannot afford a car, so they usually dump their life savings on a reliable Motor Scooter which is designed to transport the ENTIRE family, plus a few chickens and other assorted livestock if required. But that's the way it is.
I guess the little kids' parents act as sufficient padding in the event of a Motor Scooter accident!
Somehow, I don't think this transport technique would appear in The A-Z of Scooters: The illustrated guide to all makes and models.
About Anthony The Travel Tart
The Travel Tart writes about the funny, offbeat and weird aspects of world travel today. Travel wasn't meant to be taken too seriously! Check out ways to say hi below or sign up for his silly newsletter!
Other Silly Posts!