Morocco Cuisine and Morocco Meat
Morocco Meat is a main ingredient that forms a part of the very declicious Moroccan Cuisine.  I love feasting on the numerous tagines that are available there, and the rich, complex flavours become addictive.
However, anyone who has travelled to Morocco would have probably noticed an abundance of open-air meat displays, proudly hung outside local butcher shops.
After passing numerous such shops, I devised my own Code of Practice for this occupation of preparing Certified Moroccan Meat; surely mirroring the laws passed down between generations, father to son, in the Moroccan Butcher Apprenticeship Scheme.
Morocco Cuisine – Laws of Morocco Meat
A photo of one of these butcher shops is shown below, and the Unwritten Laws follow: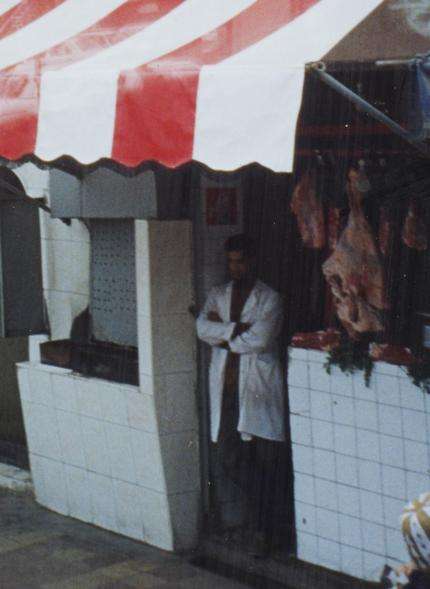 Unwritten Law One: Meat must always hang outside in the sun, so it can be covered in flies. It must never, ever be refrigerated – even if one possesses a refrigerator that is working.
Unwritten Law Two: Cow tongue is a delicacy, not offal.  It's not relevant pondering where this tongue has actually been, even if the tongue's destination was the smelly arse of another cow.
Unwritten Law Three: A high-pressure hose, or a bucket and mop, are way too hard to operate to clean up meat scraps, and should be avoided at all costs. Domestic animals such as cats and dogs are automatic and efficient cleaners.
Unwritten Law Four: The quality of the meat is proportional to the number of cats drooling on the street.
Unwritten Law Five: Sheep and/or goat heads are also a delicacy and must be displayed in full view to attract prospective customers – and flies.
But don't let that put you off Moroccan Food.
More Morocco Cuisine Stuff
If you want to see the great recipes where Morocco Meat ends up, check out Cooking at the Kasbah: Recipes from My Moroccan Kitchen and The Food of Morocco: A Journey for Food Lovers.
Get stuck into it!
Other things to do in North Africa – check out the large Legoland at Abu Simbel in Egypt.
About Anthony The Travel Tart
The Travel Tart writes about the funny, offbeat and weird aspects of world travel today. Travel wasn't meant to be taken too seriously! Check out ways to say hi below or sign up for his silly newsletter!
Other Silly Posts!