London Walks with an Offbeat Twist!
A couple of days ago, I went on some awesome London Walks with Insider London Tours.  Because Visit Britain think I'm weird, they booked me on a Quirky London Tour to see some of the bizarre and offbeat London history that's occurred throughout the years – and I wasn't disappointed!
Most of us are guilty of taking the 'Guidebook' version of local history when we travel somewhere. This strategy might be OK, but you definitely miss out on a lot of interesting information, most of which you would have no idea of unless someone pointed out a quirky fact for you.  A guide book, at best, can only give you an overarching level of details, whearas something like this Quirky London Tour delves into so much more!
So I'm going to do this today with a few photos and videos of the Quirky London Tour I went on – one of the many great London Walks you can do.
My guide for the day was Hedley – and he showed me some of the interesting stories, a lot of them pretty seedy, about the history of London Town. Here goes!
Some London Walk Lessons!
1. Prostitutes and Other Dodgey Characters
London must have been hell on earth around the Industrial Revolution. Hedley told of a story where pretty much everyone had mistresses and delved into using prostitutes. For example, he mentioned one lady of the night who kept a diary of all the services she had provided to everyone – and this list included relatives (eg. uncles), businessmen, priests, and even a cardinal! He explains more here, especially about the Covent Garden Area, one of the oldest areas of London.
2. Penis Severing and Re-Attachment
One to make your eyes water. This is more recent history, and this story happened before John Wayne Bobbit! Note the irony of the restaurant name in the background!
3. Trafalgar Square – Police Stations, Prisons and Pussycats
Check out this photo of Trafalgar Square. Millions of people have visited this icon, but would have no idea about some of the bizarre facts surrounding it. For example, during construction, a group of people had dinner on top of the column.
Another one is this structure that most people would take notice of. Check out the lamp looking thing on the right. Any idea what it is?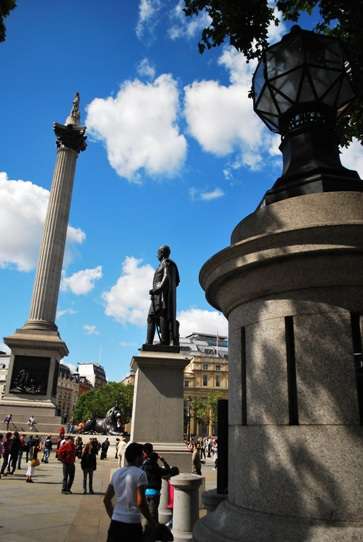 It's England smallest police station and lockup! And it's still officially one, but it's never used!
Also, many of us have seen the lions at the base of Lord Nelson's column. However, a painter was commissioned to do these, even though he wasn't a sculptor.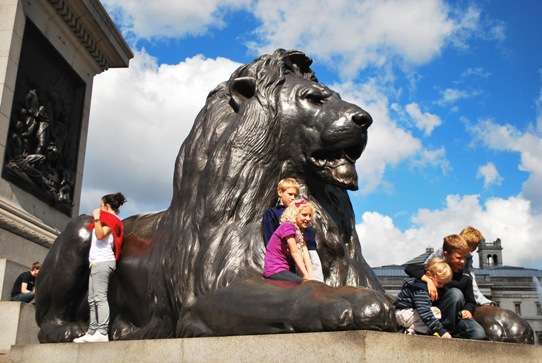 He requested that real lions be brought in so he could model them. Problem is, they had to kill them first, and a decomposing big cat wasn't very representative of a 'real lion'. The lions would rot faster than he could model them! In the end, he modelled the lion's feet from his own domestic cat!
4. Crossroads – A Grim Purpose
Ever wondered what their original purpose was? They used as a great location to bury people with a stake through their heart. No, this isn't a vampire story, but the belief was that people who had suicided would become bad spirits.
In order to stop them from annoying people, they were buried at a crossroads, so that if they woke, up, they would not know which direction to go.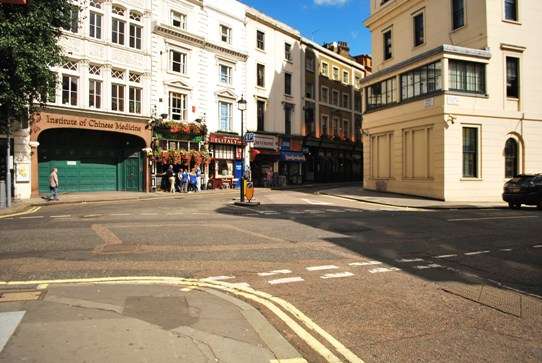 5. The Origin of Freakshows
We go to the Theatre now to see plays. Back then, medical curiosities were considered good entertainment. Like public surgeries. Hedley explains more:
6. Bizarre Guests and Rituals at the Savoy Hotel.
Everything from Fred Astaire scaling the roof to sing, to African animals staying in the rooms, to making sure you don't have a dinner party of 13 people.
7. Governments have always introduced new taxes, taxpayers find ways to avoid paying them
This is Charles' Dicken's old flat.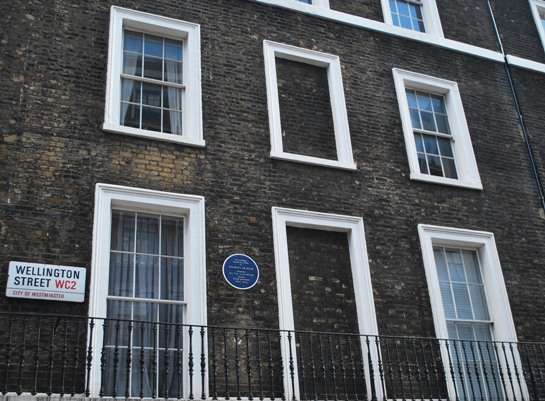 Notice that two of the windows are bricked up. That's because if you could afford windows, you could afford to be taxed. So therefore, less windows = less tax!
So, is the Quirky London Tour it worth it?
Overall, I really enjoyed this offbeat tour about Quirky London history. What you've seen here is only a small version of a very comprehensive tour. That's right, there's crap loads of interesting stuff here! So the answer is Yes!
There's a lot more information you will learn on this tour which will make you wonder why the British Empire lasted so long!
More London Walk Stuff
So the next time you go on some London Walks, think of this one!
Disclaimer: Thanks to Visit Britain and Insider London for providing this for me!
About Anthony The Travel Tart
The Travel Tart writes about the funny, offbeat and weird aspects of world travel today. Travel wasn't meant to be taken too seriously! Check out ways to say hi below or sign up for his silly newsletter!
Other Silly Posts!