Lava Flows, Volcano Eruptions and Mount Etna – Crazy!
Check out this photo of an old Lava Flow on Mount Etna, in Sicily (Sicily is the 'football' part of Italy – and a haven for godfathers…).
Mount Etna is one of the most grumpiest volcanos on the planet it tends to have a number of Volcano Eruptions every couple of years to make downstream locals a bit nervous.
Lava Flow Pics
Here is an example of a more spectacular Lava Flow: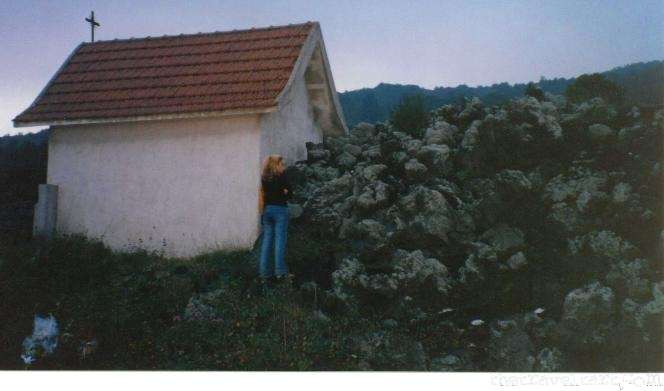 This photo contains 1) a chapel on the left, and 2) an old Lava Flow on the right.  It almost looks like the chapel was built after the Lava Flow, but it wasn't!
This Lava Flow occurred in the 1970s, and for some bizarre reason, it diverted itself around the chapel instead of vapourising it instantly.  Sure, devout Catholics call it a miracle and the work of God, but this seems too freakish for my liking!
Like a previous article on Mount Etna – Don't Visit When Erupting, I'd hate to be here when it spews out more Lava Flows!
Check out more at Volcano: A Visual Guide.
About Anthony The Travel Tart
The Travel Tart writes about the funny, offbeat and weird aspects of world travel today. Travel wasn't meant to be taken too seriously! Check out ways to say hi below or sign up for his silly newsletter!
Other Silly Posts!