Lamborghini Gallardo – If you can afford one, you can afford the Gas!
Todays photo is of the Out Of Gas Lamborghini Gallardo – and this happened at the recent Targa Tasmania Car Rally I checked out that Mazda Australia sent me to.
It's rare to see this sight on the side of the road – a half a million dollar super car being filled up with fuel from a Jerry Can!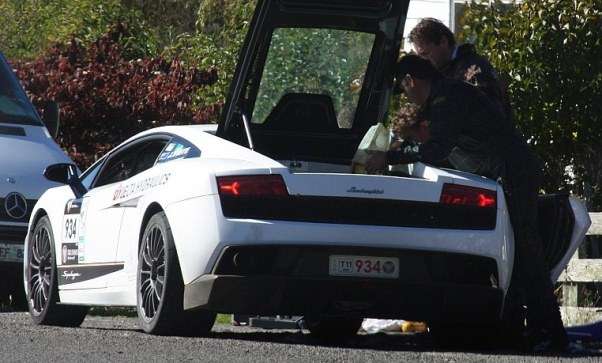 To be fair, these guys had suffered some damage to the car after hitting something, which may have caused this technical problem. But hey, it's still funny to watch an expensive car being filled up with only about $15 worth of fuel!
I'm thinking these guys won't want to be Out Of Gas again with their Lamborghini Gallardo!
Lamborghini Gallardo – What It Should Look like!
Anyway, this is what the Lamborghini Gallardo looks like after it has fuel in the tank!
If you're right into fast cars and Lamborghinis, check out Lamborghini Today: A Tempo Furioso. You can own your own Lamborghini Gallardo with this scale model Maisto Special Edition 1:18 2007 Lamborghini Gallardo Superleggera.
About Anthony The Travel Tart
The Travel Tart writes about the funny, offbeat and weird aspects of world travel today. Travel wasn't meant to be taken too seriously! Check out ways to say hi below or sign up for his silly newsletter!
Other Silly Posts!