I Love My Job – Not!
Yes, we all have those crappy days where work isn't cracked up to be where we say 'I Love My Job!' – or one popular saying I have heard, which is 'Work is Overrated!' But if you are having a bad day at work, just remember, there is always someone else who is much worse off that you are and is working at a much crappier job than you! I've seen some shockers in the third world which makes you grateful that you were born in a first world country.
Even so, it can be very hard to stay somewhat focus when it's nice and sunny outside, and you're stuck inside the office or cubicle, or what I call 'The Fluorescent Prison!' Ahh, there's nothing like the sprawling rat race!
Remember, if you managed to win the Rat Race, you're still a rat..
But I came across a Funny Poster when I was on the way to Mao and More in Central Sydney, Australia which made me chuckle and made fun of the 'Working Myself To Death' notion. It's one of the photos I captured as part of my Vivid Festival junket there.
Check it out!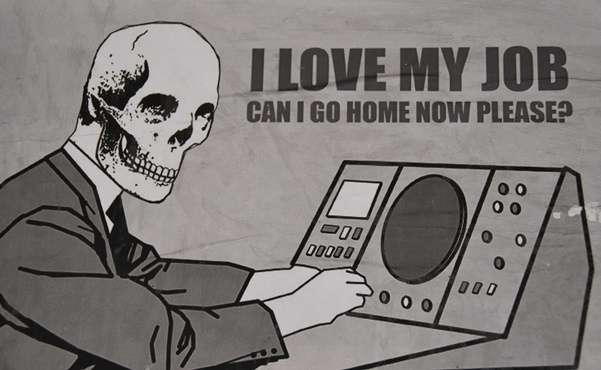 I am sure there of many of us out there reading this post where this picture really, really resonates with them! As an example, you may have come across the Workplace Personalities That Make You Want To Travel which drive you insane, or it's just that you're a bit over the whole working thing.
Oh well. I hope that viewing this picture helps bring a small smile to your face, or to 'turn that frown upside down!'.
More I Love My Job Stuff
Check out I Love My Job! A Digest of Workplace Wit and Wisdom.
About Anthony The Travel Tart
The Travel Tart writes about the funny, offbeat and weird aspects of world travel today. Travel wasn't meant to be taken too seriously! Check out ways to say hi below or sign up for his silly newsletter!
Other Silly Posts!