Rujak Cingur – Another Bizarre Food!
'What the?' I hear you say? Yes, you read right.  Rujak Cingur is Cow's Nose With Peanut Sauce.
Here is a picture of Rujak Cingur below when it arrives from the kitchen!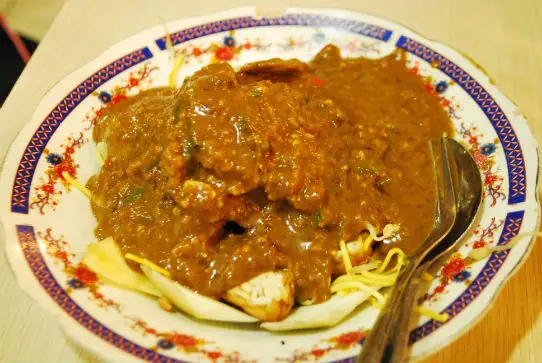 In the spirit of continuing to try the local, and sometimes, odd specialities of each place I have visited in Indonesia (such as Tea with Egg, and Ice with Red Beans), I decided to try this bizarre food – even bizarre for me!
Rujak Cingur is a specialty dish of the East Java city of Surabaya, in Indonesia.
Alderina from the local Surabaya blogging community, Tugupahlawan, introduced me to this fascinating meal!
The ingredients for the Rujak Cingur recipe are: sliced cow's nose (including the cartilage), peanut sauce, shrimp paste, noodles, cucumber, tempe (a local ingredient consisting of fermented soybean cake), pineapple, and immature mango.
The nose meat is cooked on a pan with all of these ingredients, and the peanut sauce is added last to smother the mix, which is probably not a bad thing!
In terms of how to eat this – basically, use your knife and spoon to load the mix into your mouth, and start munching away without trying to think of what you are eating!
More Rujak Cingur Stuff
I must admit, I found Rujak Cingur a bit hard to stomach.  You will know when you are eating the nose when you firstly chomp on the soft meat, and then on the crunchy cartilage bits! Crunchy and meaty at the same time!
But overall, I was quite surprised again just how good this dish tasted.
You won't know until you try it!
Also check out Authentic Recipes from Indonesia.
Air Asia can fly you to Surabaya from Jakarta in Indonesia.  Check out their website and book a flight to Surabaya to try Cow's Nose with Peanut Sauce.
About Anthony The Travel Tart
The Travel Tart writes about the funny, offbeat and weird aspects of world travel today. Travel wasn't meant to be taken too seriously! Check out ways to say hi below or sign up for his silly newsletter!
Other Silly Posts!