Hearses For Sale – Don't Ask About The Fuel Pumps?
Today I've got a really, really strange travel photo from Ryan from Travel And Graphs. You can also follow @TravelandGraphs on Twitter. And despite my silly title, it's not about Hearses For Sale.. I think! Definitely from the Only In America files!
Anyway, I will leave the explanation to Ryan!
"Pulling into a gas station outside of Weed, New Mexico (ha ha, I love the name – maybe this place has Cannabis Starter Kits!), I was confronted with this scene.
There was only one gas pump that looked to be from the 50's, with a credit card machine next to it and no attendant in sight.
Come to think of it, there wasn't anybody in sight; attending things or otherwise.
Down the road a ways was a convenience store (closed at the time) that made it clear they wanted nothing to do with petrol services. Logically, the way to do this was putting a sign saying as much on the ground, propped up against a white hearse.
Feeling like the insolent chap I am, I thought to myself " I should go in and ask about gas pumps, just for kicks. What's the worst they could do?"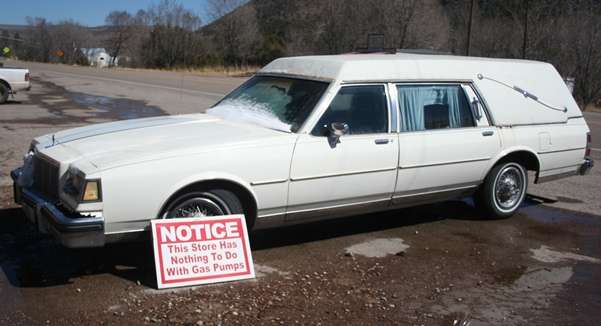 But I realized that any store that puts a vehicle to
transport
the dead out front is not likely to enjoy my humor. Leaving town seemed the better choice.
I think it's lucky you did leave town in quick time! Sounds like you are in duelling bango country there!
Anyway, there is nothing like using a bit of ingenuity to show the general public what you don't sell! Obviously the store owners were a little bit over pesky tourists asking silly questions about filling up their cars with gas!
More Hearses For Sale Stuff
About Anthony The Travel Tart
The Travel Tart writes about the funny, offbeat and weird aspects of world travel today. Travel wasn't meant to be taken too seriously! Check out ways to say hi below or sign up for his silly newsletter!
Other Silly Posts!