Hawaiian Islands Funny Volcano Shots
Today, I've got a couple of funny travel photos of the Hawaiian Islands that were sent in from Donald from Travergence.com.
Hawaii is synonymous with the volcanoes and subsequent lava flows that dominate some of its landscape. For example, when you see coverage of the Hawaiian Iron Man (probably one of the most insane endurance events of the world), this acts as a giant tourism promotion, especially when you see hundreds of bikes travelling through the seemingly endless lava fields.
And it looks like some of these lava flows sometimes go a little bit too far. Like the lava flow that has swallowed an entire road in the picture below! What's really happened is that the lava flow has given new meaning to some of the signs that were placed there.
For example, check out this scene – the sign on the right says 'Stay On Paved Road – Private Property on Either Side'.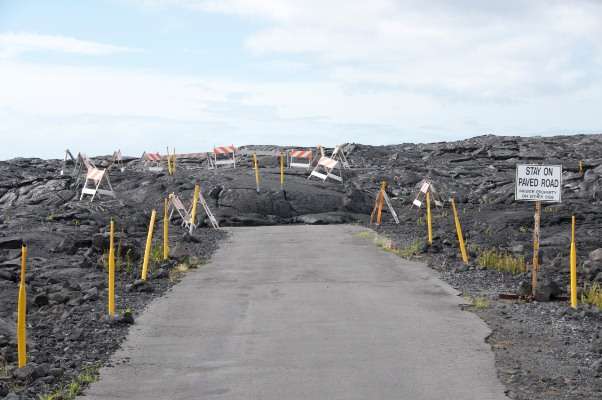 Looks like the private property was somewhat vapourised to me and no longer exists! It's going to take a few million years before this lava breaks down into soil!
There's also this car which looks like it was also vapourised and sent to automobile heaven forever. Talk about being in the wrong place at the wrong time.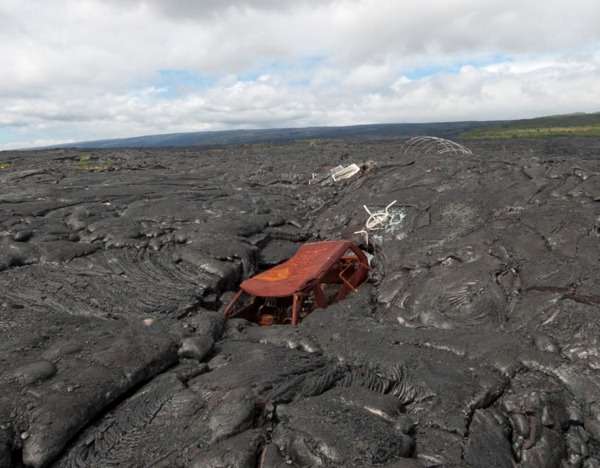 Crazy stuff! I'd like to see these bizarre sights in person.
If you're after more unusual volcano stuff, check out the following previous posts on this silly website:
More Hawaiian Islands Volcano Stuff
For more Hawaii Island Volcano info, see more at Chasing Lava: A Geologist's Adventures at the Hawaiian Volcano Observatory.
BW6CYNJ85BGH
About Anthony The Travel Tart
The Travel Tart writes about the funny, offbeat and weird aspects of world travel today. Travel wasn't meant to be taken too seriously! Check out ways to say hi below or sign up for his silly newsletter!
Other Silly Posts!