Grandfather Rocks Koh Samui..
Grandfather Rock is located near the Koh Samui area of Thailand. This piece of geological history is one of the more tucked away tourist attractions of this touristy area. Koh Samui is a really popular area for travellers to visit and chill out and do sod all.  A lot of people end up retiring there because of the relaxed lifestyle and the cheap cost of living.
Koh Samui is also famous for the infamous Full Moon Party that occurs every time a Full Moon occurs at the nearby island of Ko Pha Ngan.
When the Full Moon occurs, an all night rave is held on the beach and people get drunk and fall down and do all sorts of embarrassing things like get really drunk and fall down, and possibly sleep with people that they normally wouldn't touch with a forty foot barge pole when sober! Sounds like complete debauchery to me and a good reason to punish a few brain and liver cells!
But there is another less well known attraction near Koh Samui – Grandfather Rock. And when you look at this large pebble from certain angles, it starts to play tricks with your head!
Check out this Suggestive Profile Picture of Grandfather Rock! you will see what I mean!
What does Grandfather Rock Look like?
It looks like something else, that rhymes with Rock. And it's not Captain Spock! And I will leave that innuendo to figure out yourself!
See what I mean…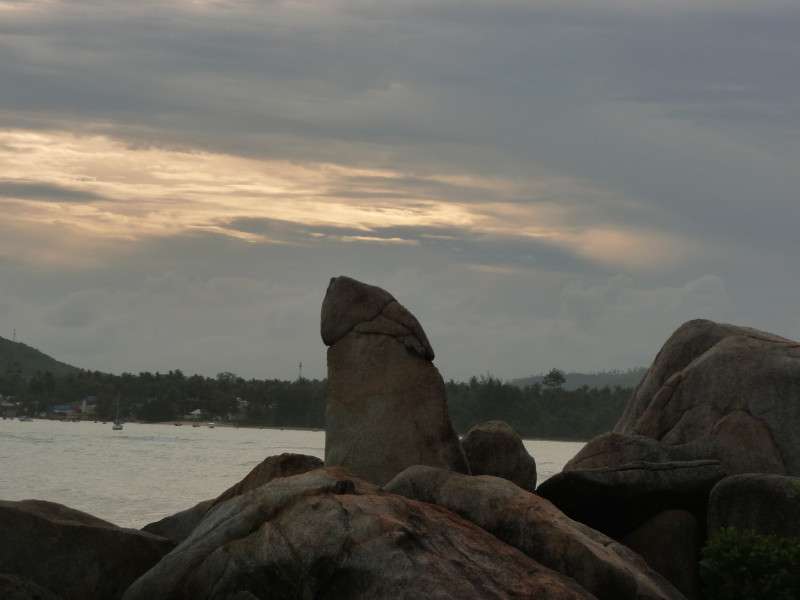 Enough said!
Other things you can do in Thailand after witnessing the majesty of Grandfather Rock – go on a dodgy Elephant Ride and almost be flattened to death!
More Koh Samui stuff
Find out more at Koh Samui – Bangkok for more on the tourist attractions int he area. But now you know about Grandfather Rock!
About Anthony The Travel Tart
The Travel Tart writes about the funny, offbeat and weird aspects of world travel today. Travel wasn't meant to be taken too seriously! Check out ways to say hi below or sign up for his silly newsletter!
Other Silly Posts!