Funny Travel Photo Time – Thanks to George Bush!
The George Bush Bar is todays Funny Travel Photo! I'm not sure which George Bush this bar is named after, but regardless, I have no idea of the motivation for naming this bar spotted somewhere on the outskirts of Dar es Salaam, in Tanzania in July 2008. But that is what I love about Africa – spotting little gems like this that usually have little or no explanation, but are pretty funny upon first look, or even repeat visits!
No, this funny travel photo wasn't taken at the White House in Washington D.C. in the United States capital if you were well and truly wondering. Air Force one wasn't parked out the back either!
I'm not sure if Mr former President(s) has visited this bar bearing his own name so he could have a drink with some of the friendly locals. But if George H Bush or George W Bush are ever visiting Tanzania, I think it would be fantastic if they would visit their namesake bar! In fact, they should do a father son double act and turn up together to say hello and drink a Kilimanjaro Lager together.
And it would be worth turning up with a camera crew to see if George W Bush would come out with this classic quotes, or Bush-isms that made thousands of people scratch their heads when he was President of the United States.
Have a look closely at the photo – judging by the sign on the front door, the entire George Bush Bar must be a toilet. Yes, I am serious! I didn't doctor the photo either!
Funny Travel Photo – here it is!
The irony of it all… The George Bush Bar Funny Travel Photo! I should have stopped the bus and gone in for a drink myself. God knows what is inside!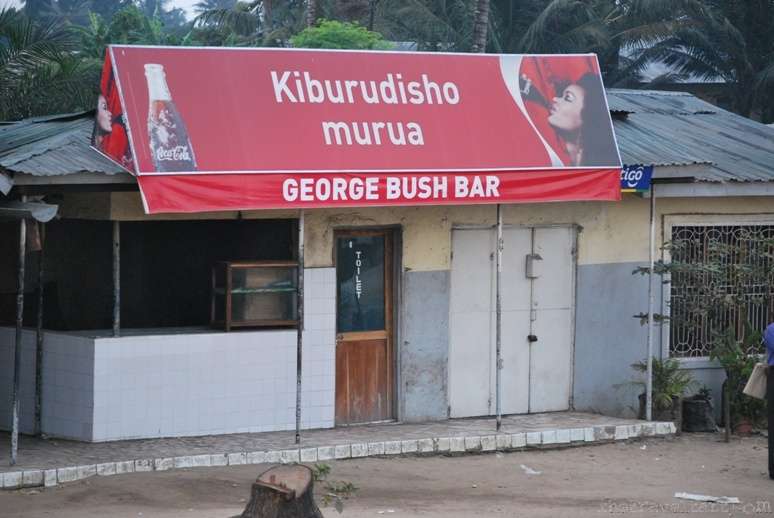 More Funny Travel Photo Stuff
Well, I had a good chuckle when I first had a look at the George Bush Bar.
But when you have finished having a drink there, other cool things to do in Tanzania after paying some Tanzanian shillings for a drink at the George Bush Bar – see the bizarre Hyrax which is related to an elephant, check out the excellent Ngorogoro Crater camping grounds, and go to the Hairdresser.
The George Bush Bar is almost as funny as this George Bush (Dumb and Dumber) Framed Art Poster Print.
Unfortunately, the W jokes haven't stopped since Barack Obama became president!
About Anthony The Travel Tart
The Travel Tart writes about the funny, offbeat and weird aspects of world travel today. Travel wasn't meant to be taken too seriously! Check out ways to say hi below or sign up for his silly newsletter!
Other Silly Posts!