Funny Traffic Signs in Berlin – A Hangover From The Cold War
I spotted these Funny Traffic Signs in Berlin near the 9flats place I was staying. In fact, these traffic signs are all over Berlin and these pedestrian lights are a cultural icon all over this cool city. And they are slightly different to the walking man that you see at  home.
These guys are called the Ampelmännchen in German, or the 'Little Traffic Light Man'! They are a hangover from the Cold War that won't go away, but I like this because it's just a little bit different.
When the Berlin Wall went up, East Germany (the former German Democratic Republic), which was controlled by Soviet Union forces, decided to have their own set of pedestrian traffic lights just so they could be different to those in West Berlin. The Ampelmännchen was first introduced in 1961.
The Ampelmännchen involved a male figure with a large hat. Here is an example of the 'Don't walk across the road' little red man! The thick outstretched arms of the red man is associated with the function of a blocking barricade to signal "stop".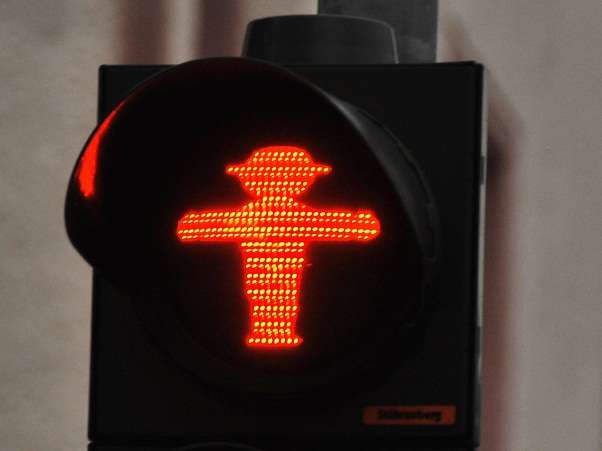 The green man with signals the permission to "go ahead", and is associated with a dynamic arrow to move ahead.
However, with the fall of the Berlin Wall in 1989, the Ampelmännchen was under threat. Reunification of West and East Germany led to calls for the standardisation of traffic lights, however, nostalgia meant that the old East German signs have hung around to this day. You are bound to come across them if you travel to Berlin.
However, sometimes, when you look at the Green man at certain angles, it looks like something else suggestive! Ironically, the 'Go' action man figure looks like he's ingested a massive dose of Natural Viagra when the light comes on!
See what I mean? That's why I think it's a funny traffic sign!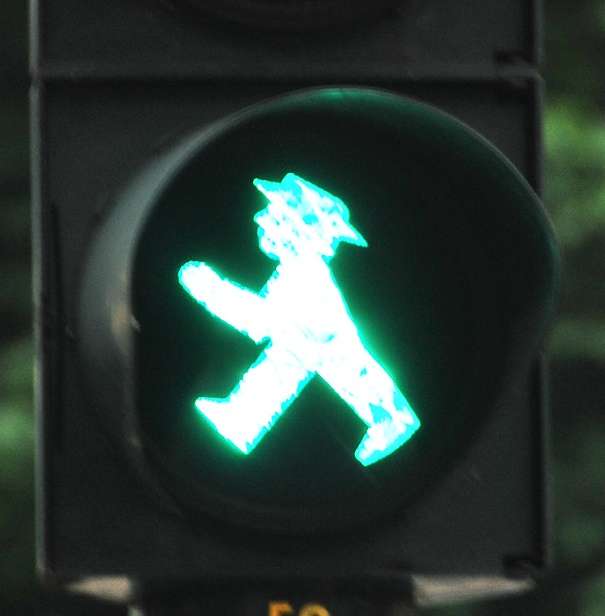 Once again, this is what I love about travelling – the differences, not the similarities!
More Funny Traffic Sign Stuff
If you know how to read and write German, check out Das rote Ampelmännchen. For more stuff about funny traffic signs, check out Lonely Planet Signspotting: Absurd & Amusing Signs from Around the World.
See more at my crazy list of German  Slang and Expressions!
About Anthony The Travel Tart
The Travel Tart writes about the funny, offbeat and weird aspects of world travel today. Travel wasn't meant to be taken too seriously! Check out ways to say hi below or sign up for his silly newsletter!
Other Silly Posts!