Funny Masturbation Sign – Come On, Get Your Hand Off It!
Here is one of the most unusual bits of graffitti I've come across in a long time! It's a Funny Masturbation Sign that I spotted when I was walking around the Sydney suburb of Newtown, in Australia. And it's not necessarily the title of this graffiti that makes me shake my head – but the reasoning behind it to paint this scribble on the wall instead!
Now I'm not sure why someone would want to paint this type of graffiti on a heritage listed terrace house, but hey, it definitely caught my attention when I was aimlessly walking down the streets trying to find stuff to photograph as part of the Sydney Festival Of Lights called the Vivid Festival. So I decided to take a few shots of it!
This catchphrase definitely stands out amongst the other graffiti in the street! Like so!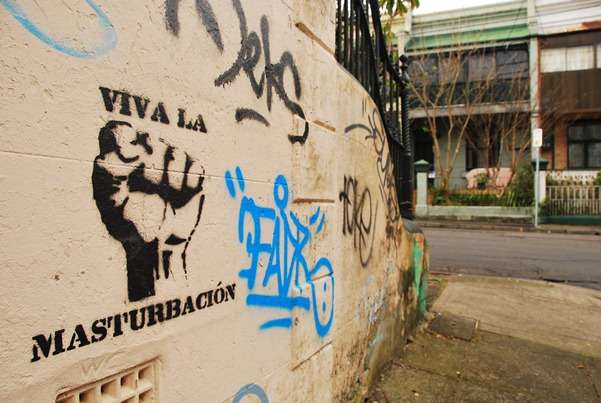 Yes, the term Viva la Masturbacion is Spanish, which translated into English means 'Live for Masturbation'. And there are some people out there who probably live by this notion! The clenched fist adds to the reinforcement of the writing me thinks!
Speaking of which, have a read of a much earlier post I wrote about the Spanish meaning for the popular four wheel drive, the Mitsubishi Pajero.  Ironically, I have never seen this piece of graffiti spray painted on one of these cars. But there is always a first time I guess!
More Funny Masturbation Stuff
This Funny Masturbation sign is almost as funny as the title of this book I spotted on Amazon – A Gentleman's Companion: 101 Fascinating Things To Do With Your Penis.
You mean there are actually 101 things you can do? Crazy! Someone had the time to publish this bizarrely titled book! Maybe they're making a lot of money from it..
About Anthony The Travel Tart
The Travel Tart writes about the funny, offbeat and weird aspects of world travel today. Travel wasn't meant to be taken too seriously! Check out ways to say hi below or sign up for his silly newsletter!
Other Silly Posts!