Free Hugs Campaign – Failing Miserably!
If you go to the Harajuku area of Tokyo, you'll find all sort of weirdos cruising around rebelling against Japanese Society. At the square near the subway station, you'll come across many of the Harajuku Girls – the famous females that dress up in school uniforms and other unpractical gear that most people wouldn't bother to wear. They usually just stand around, wanting people to have a look at them. But then you spot the odd strange person like this man offering Free Hugs – wanting to spread some love around the place…
This guy was spotted on my G Adventures trip in Japan. And he wasn't the only strange human being hanging around the Harajuku area! There were heaps of other strangely dressed people walking around. But then again, it wouldn't be Japan if these strange and bizarre characters were absent from the streets! That's what I really like about Japan – anything goes, and no one really cares what you look like or what you do as long as you don't piss anyone off!
The Free Hugs Man in Harajuku, Tokyo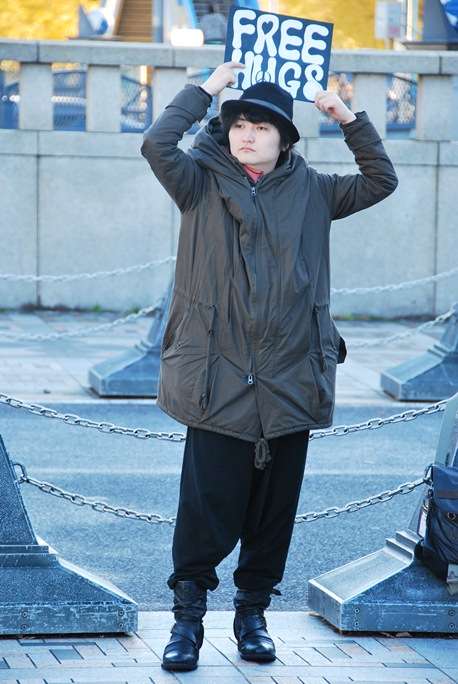 I watched this guy for about 20 minutes – and he was unable to score any Free Hugs of any kind during this time. In fact, I was feeling really sorry for him and was almost tempted to give him a Free Hug myself!
I'm just wondering if this is his day job? If it is, how does he make his money? The mind boggles with all sorts of questions!
More Free Hugs Stuff!
If you are really interested in Free Hugs, why not buy the Free Hugs T-Shirt? You can then unleash yourself into the world to see if you can score a few random hugs from strangers as they walk past you! Let me know if this strategy works! I might try it myself!
About Anthony The Travel Tart
The Travel Tart writes about the funny, offbeat and weird aspects of world travel today. Travel wasn't meant to be taken too seriously! Check out ways to say hi below or sign up for his silly newsletter!
Other Silly Posts!